Being a coach's kid isn't easy, but for Alisa, Tina, and Tim '87, it sure was fun growing up with their dad, Wabash Athletics Hall of Famer Max Servies '58.
Max's tenure at Wabash included 40 years as wrestling coach, 28 years as an assistant football coach, five years as an assistant in track, and 33 years as athletic director.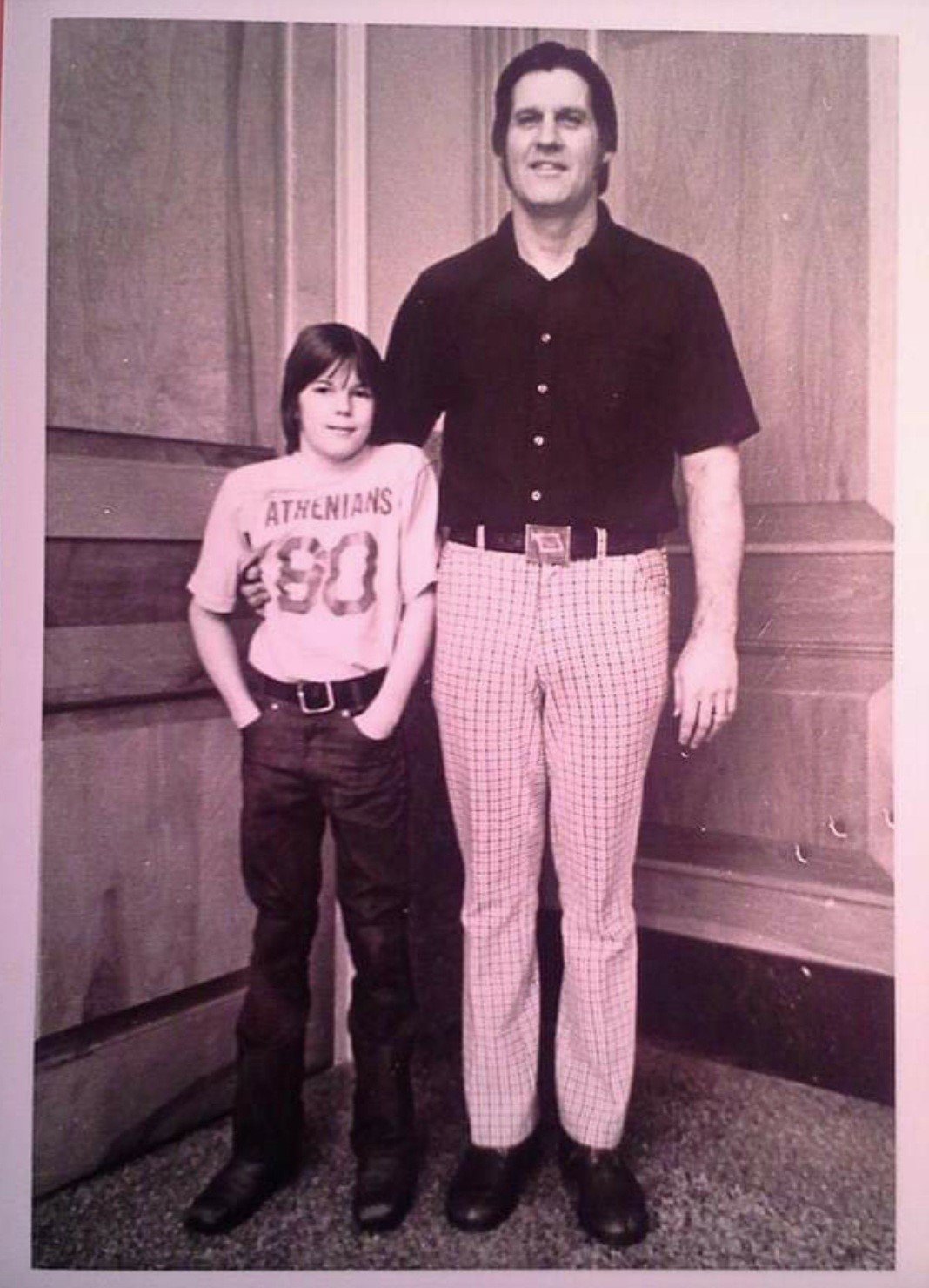 "Dad spent a lot of time working, especially during football and wrestling seasons, but he always found a way to combine his love for Wabash and his family," said Alisa, the oldest of the three.
"He sat us down in this big conference room, got out a whiteboard, and started showing us the Xs and Os, trying to teach us about football," she said with a laugh, recalling one of the many special times Max brought the kids to campus. "I was just a little girl so I had no idea what he was talking about, but I remember loving those moments and appreciating being able to spend time with dad."
"Campus was like our playground," Tina added. "Tim was 4, I was about 7, and my sister was 9, and we would just run all around the wrestling room and track. We knew all of the coaches and staff, and were so proud of it. Wabash was our home away from home."
Max first came to Wabash as a student in 1954 after graduating from Crawfordsville High School. He majored in biology and lettered in football and wrestling. He earned a master's degree in biology from Purdue University in 1962 and an honorary Doctorate of Humane Letters from Wabash in 2009.
He was a member of several national athletic associations and received numerous honors as a coach leading up to his retirement in 2000. Under Max's leadership, the wrestling team set a national record of 487 dual meets in 38-straight winning seasons, two of which were undefeated.
"Everybody looked up to him," said Tim, a four-year wrestling letterman and team captain at Wabash. "His students knew they could go to him if they needed anything like help with studies or life advice."
"He was probably the kindest man you would ever meet," Tina added. "If a student needed to go to a doctor appointment, didn't have the money for groceries, or didn't have anywhere to go for the holidays or breaks, he always made sure they were taken care of."
Max was also known for his "Max Servies-isms," as Tim called them. One of his well-known sayings among student-athletes, one he would repeat while bending over just a bit and holding up his two open hands in front of him, was "Ya gotta have heavy mitts!" This was Max's way of encouraging wrestlers and defensive backs to use their hands to ward off opponents.
"Dad was totally all-in for Wabash," said Alisa, noting how Max would often be seen over the years—on campus and at home—proudly sporting scarlet red and white in support of the College. "He was the perfect image of Some Little Giant!"
At 85 years old, Max died on October 9, 2021.
As a way to celebrate their father and his lifetime of loyalty and service to the College, the Servies siblings created a scholarship in his honor.
The Max E. Servies "Heavy Mitts" Scholarship will provide support for students with demonstrated financial need.
"Dad came from a very humble background and got to attend Wabash thanks to the generosity of others," Tim said. "He would be proud of this fund, and that he can continue to have an impact on generations of students."
"He always felt that it was important to give back and believed when people come together as a team, they can make a real impact," Alisa said. "To be able to do this and give future students the ability to achieve their dreams by coming to Wabash would mean the world to him."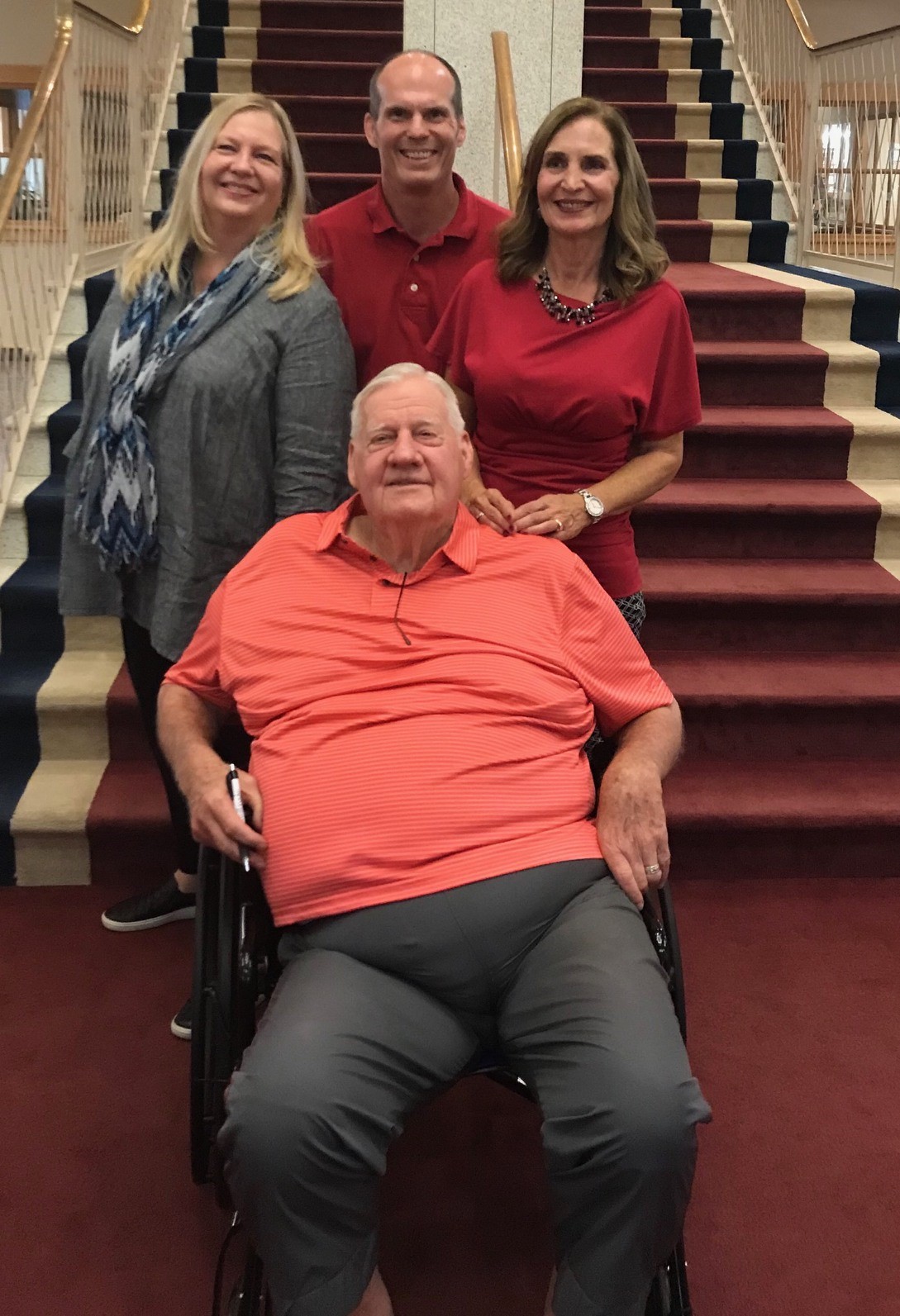 To further honor Max and his contributions to the College, a group of Wabash wrestling alumni and fans have issued a challenge to add weight to the "Heavy Mitts" Scholarship.
Duane Hile '67, Mark Sutton '68, Bill Havlin '84, Marc Lorber '88, Dave Stensland '91, Anthony Inzerello '93, Dan Emerson '98, Bill Hoover '99, Matt Kriech '00, Associate Professor of Chemistry Joe Scanlon '03, Chris Healy '05, Drew McCoy '05, Garrett Thiel '08, and David Miller H'05 will match all donations to the fund up to a total of $12,000.
Miller, father of Wabash wrestler Adam Miller '05, first met Max in 2001. For years after his retirement, the former coach frequently returned to campus to cheer on the team at wrestling meets or attend summer camps.
"Max came to every home meet and knew every wrestler—their names, weight, what and how they were doing in school," Miller recalled. "It was very clear he was passionate about wrestling and winning, but more than that, his first priority was the guys."
When he learned about the scholarship shortly after Max's passing, Miller knew he had to get involved and give back in honor of a man who gave so much to Wabash. He hopes others feel called too.
"Remember what Max did for you and the opportunities that a Wabash education provided," Miller said. "Give something back in recognition."
Those interested in participating or learning more about the Max E. Servies "Heavy Mitts" Scholarship are asked to please contact Wabash Advancement Office at giving@wabash.edu or 877-743-4545. Donations to the fund can be made at www.wabash.edu/give.