Eight years ago, Vic Melchiorre's life changed forever.
He was living in Indianapolis, serving as a vice president of JPMorgan Chase and Company. The job as a fiduciary attorney was stressful at times, but the Wabash 1977 graduate was overall a happy, healthy man.
In January 2015, at 60 years-old, Melchiorre had a stroke that paralyzed the left side of his body.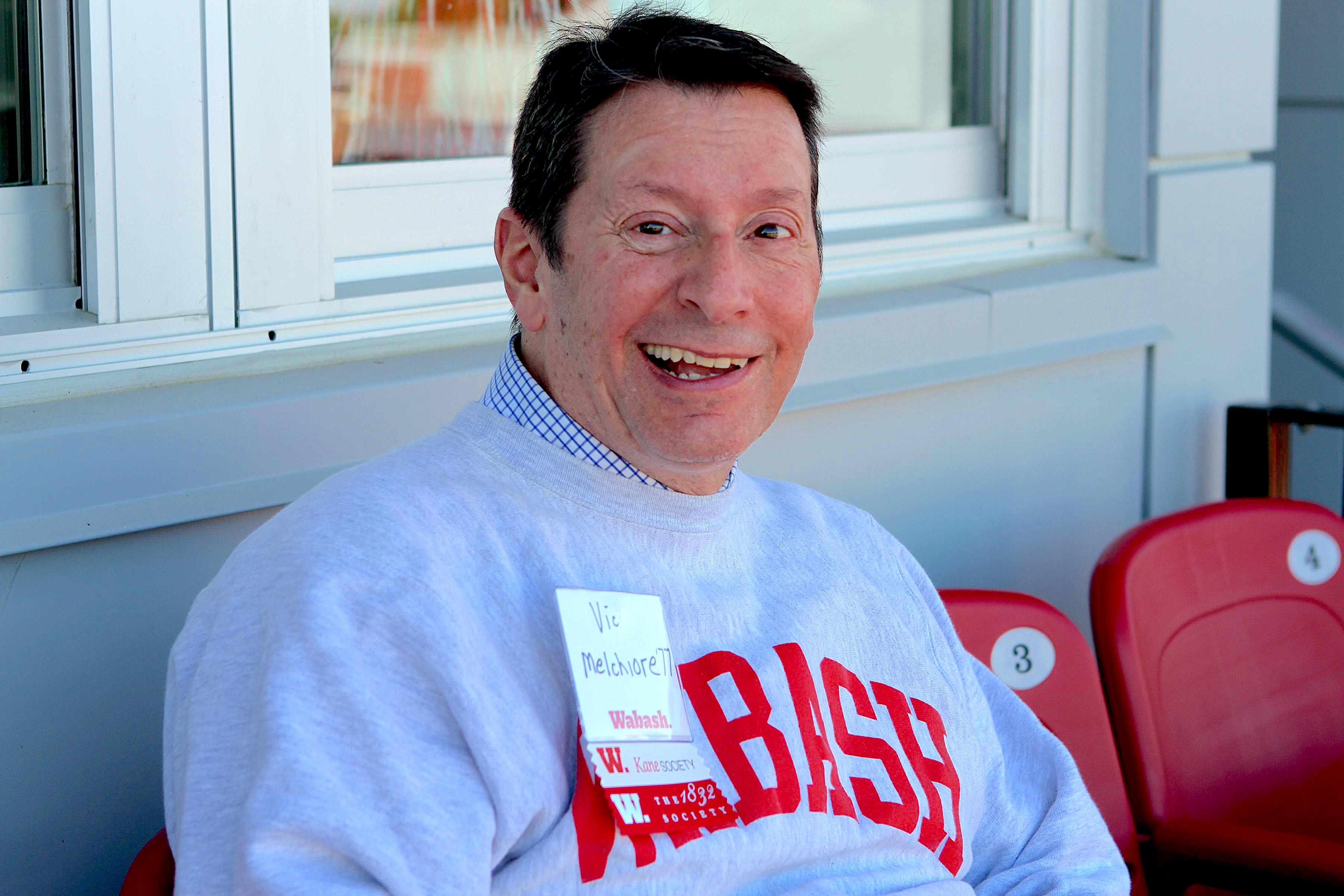 "It was about as severe of a stroke one could have and not die," he said.
Recovery was long and difficult. Melchiorre spent a month in the hospital and was unable to work for more than a year. While in the hospital, he was visited with and provided concern and encouragement by numerous members of the Wabash community.
Through rehabilitation and physical therapy, Melchiorre relearned how to walk and talk.
In the months following the stroke, Melchiorre said he had a long time to reflect on his life, and in doing so, rediscovered and reconnected with his faith. His relationship with God, he said, kept him strong and determined to push forward.
"It occurred to me that I had been spared death for a reason," he said. "And that reason was to give me a second chance, to do something meaningful."
Melchiorre decided he wanted to do something that celebrated and honored the two institutions that have been most formative in his life: Wabash College and the Catholic Church.
As part of the Giant Steps Campaign, he established the Victor A. Melchiorre '77 Scholarship Fund, designed to provide support for students enrolling at Wabash from Catholic secondary schools.
"I hope to support young men who might need the extra financial assistance come to Wabash and benefit from the same kind of experiences I did as a student," Melchiorre said.
While at Wabash, Melchiorre was an English major and a member of Tau Kappa Epsilon. He participated in theatre productions and was active in Student Senate.
Melchiorre remembers spending time visiting his father's alma mater, University of Notre Dame, and his law practice, Melchiorre & Melchiorre in Mishawaka. He knew he wanted to follow in his father's footsteps as a lawyer but was determined to pursue higher education somewhere different.
"I attended a Honor Scholarship Weekend, and that sealed the deal," Melchiorre recalled. "I fell in love with Wabash. Everything was accessible — the size of campus, the ability to connect with professors, joining a fraternity. I felt welcomed."
Wabash not only gave him the education to lead a successful life as a lawyer after graduation, but it also instilled in him the fortitude to handle life's challenges.
"I can't imagine a better preparation," Melchiorre said. "It was all about reading and interpretation. Being able to express yourself, that's what law is all about.
"Wabash wasn't easy, especially when I had to figure out how to integrate my studies with the demands of the fraternity and my other extracurriculars." Melchiorre continued. "But that's life. You have to be able to think critically and responsibly manage multiple things at once if you want to be successful."
Melchiorre graduated from Samford University's Cumberland School of Law in 1980, and practiced at his father's firm in Mishawaka for a couple of years after graduation.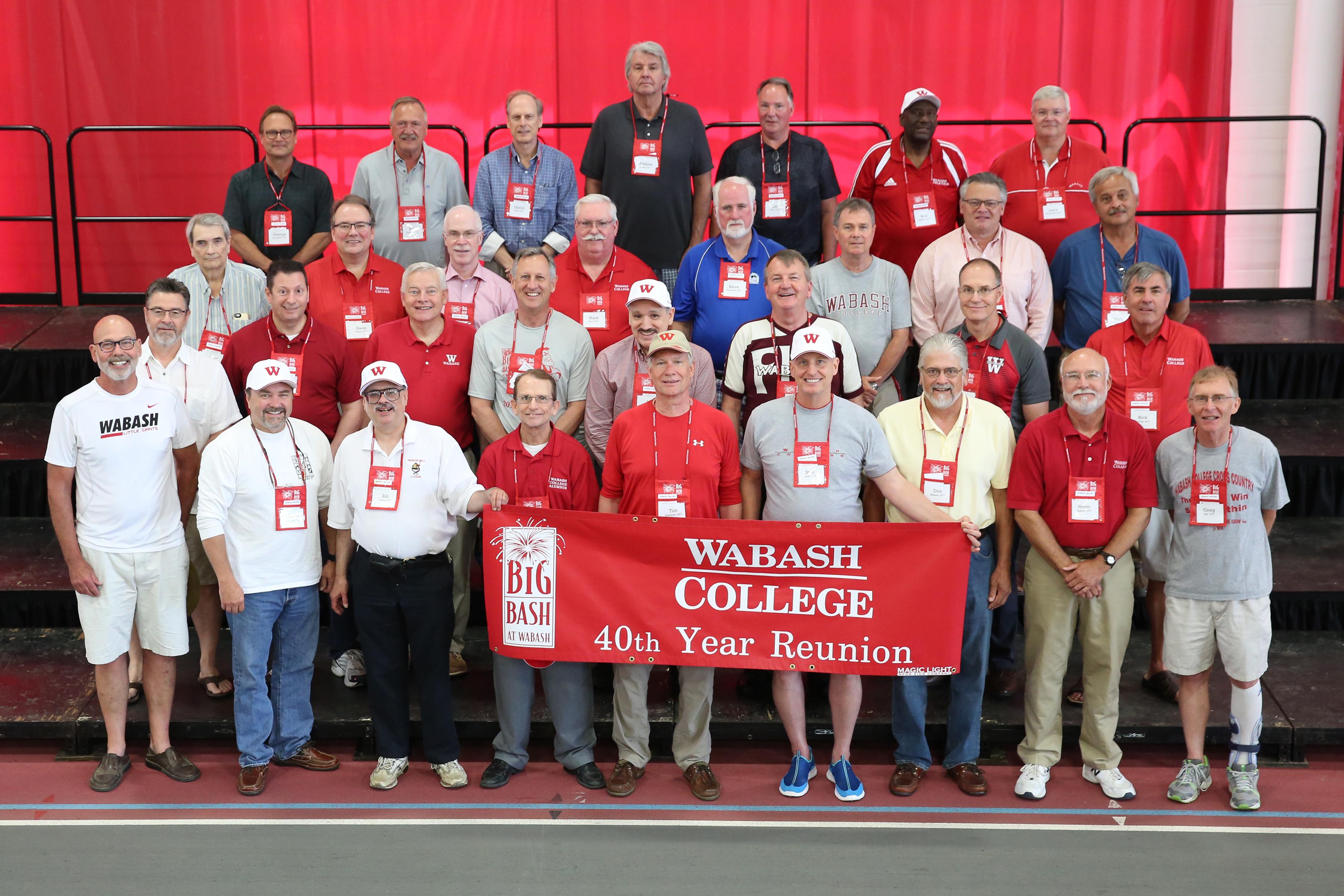 In 1987, he decided to work for Midwest Commerce Banking Company, a subsidiary of NBD Bank. In 1993, NBD acquired the Indiana National Bank (INB) and Melchiorre transferred to Indianapolis to work in the trust department. After a series of subsequent bank mergers, INB ultimately became part of JPMorgan Chase and Company where Melchiorre worked as a fiduciary specialist and then vice president until 2019. Melchiorre then served as the chief risk officer at Greenfield Banking Company until his recent retirement.
While he continues to participate in physical therapy since the stroke, Melchiorre also remains very active in his community. He works part-time at a self-storage business he co-owns, attends mass every day, and serves as a member of the Knights of Columbus.
"After my stroke, I joined the Knights of Columbus, which is the world's largest Catholic fraternal organization," Melchiorre said with pride. "Last year, I was named the grand knight for our parish council."
Since graduating more than 45 years ago, Melchiorre has stayed closely connected to Wabash. He makes frequent visits back to campus to attend alumni events, cheer on the Little Giants football team, and reminisce with his fraternity brothers.
He encourages others to also pay it forward and give back to the institutions that matter most to them.
"We wouldn't be where we are if not for the education we received," he said. "Wabash gave us a foundation for life."