Randy Rippy '77 is proud to call himself a Wabash man.
That pride, however, is incomparable to how he felt watching his son not only follow in his footsteps but thrive while attending his alma mater.
"He did it all," Randy, a physics major and first-generation college student, said of Andrew '22, who was a computer science, mathematics, and physics triple major. "I don't know anybody who got more out of Wabash than he did."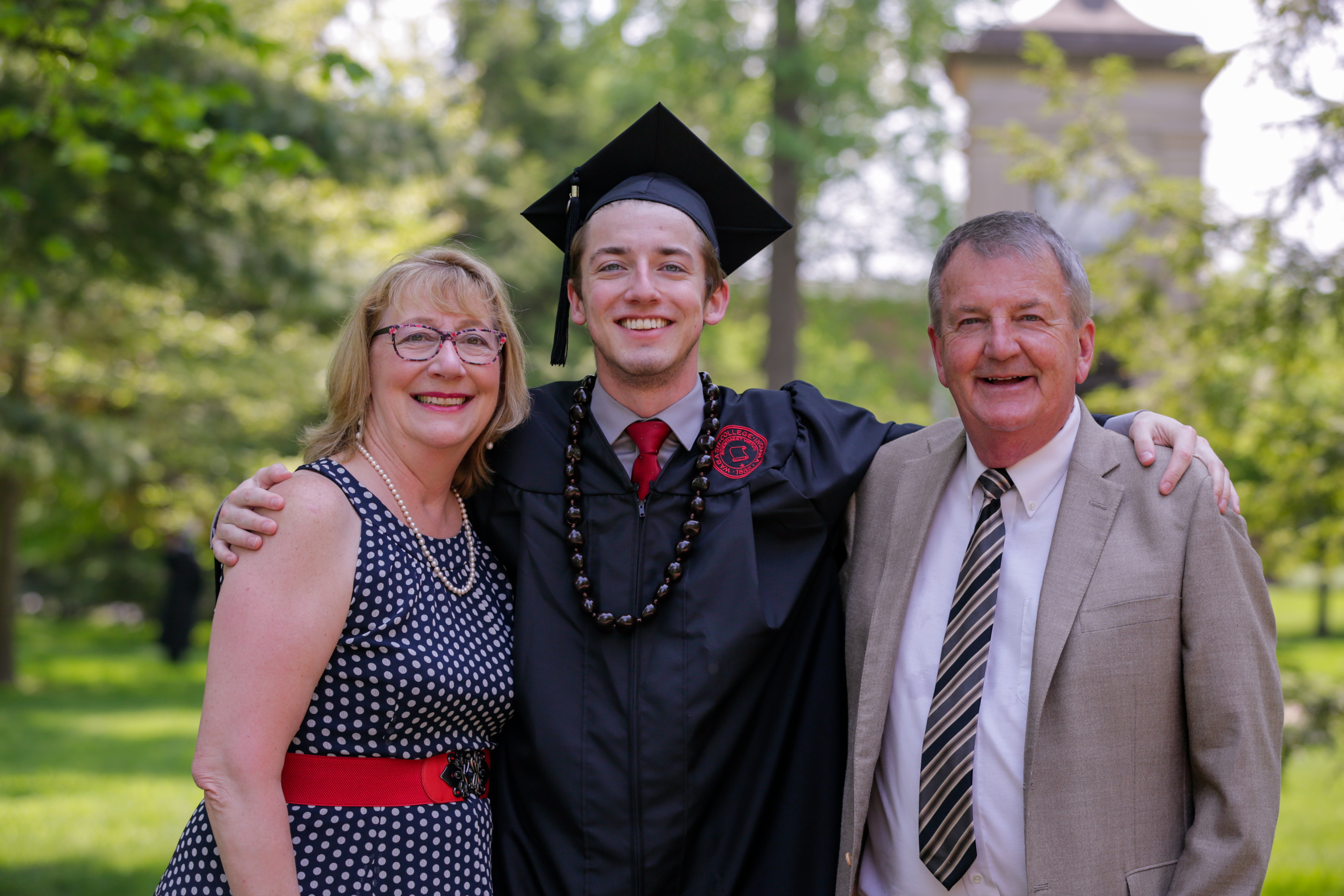 Andrew distinguished himself at Wabash through a variety of campus leadership roles and academic achievement.
He was a member of Phi Delta Theta fraternity, and was active in Spanish Club, Computer Science Club, Math Club, and the Society of Physics Students. He was also one of five juniors to be inducted into Phi Beta Kappa, the oldest and most prestigious academic honor society in the United States, and earned distinction in physics comprehensive exams.
"There was even one point Andrew talked about being a quadruple major, and we had to talk him down from that," said Randy, who pursued a career in commercial nuclear power after Wabash and retired in 2017 from Xcel Energy in Minnesota. "He just had so much passion and was genuinely excited to learn."
"He got a fabulous education at Wabash and that's thanks to those wonderful teachers that supported him all four years," added Marian (Randy's wife and Andrew's mother), a cardiovascular medical device pathology consultant.
"He really loved and bonded closely with his physics and computer science professors," she explained. "Dr. James Brown (professor of physics), for instance, offered Andrew an internship during COVID-19, and we were so grateful for that because he was struggling with being at home and not being with his classmates. Dr. Brown saw Andrew's research potential and gave him that opportunity during a really hard time in his life. We will forever be grateful to Dr. Brown for picking him up like that."
As a way to show gratitude, the Rippys took a giant step for Wabash by establishing The Rippy Family Research Fund for Physics which is designed to support research by students with faculty members in the Physics Department.
The Rippy Fund will enable students to participate in activities only available outside the traditional classroom, including student research internships, student travel in support of research, and publication of research results in scholarly journals.
"Being a Lilly Scholar, all of Andrew's school expenses were taken care of," Randy said. "So, we decided to use designated funds we had set aside for his education to give back and do something that would have a lasting impact on other Wabash students."
"We wanted to be able to help fund experiences like the ones Andrew got to participate in as a student," Marian said. "Those were so impactful to his overall college experience, and prepared him for graduate school and life after Wabash. We want other promising students to have similar opportunities."
Andrew, who is currently pursuing a master's degree in computer science at Carnegie Mellon University, said he was thrilled when he first learned of his parents' decision to create the fund. He hopes the Rippy Family Research Fund for Physics helps "bridge the gap" for students interested in pursuing physics research.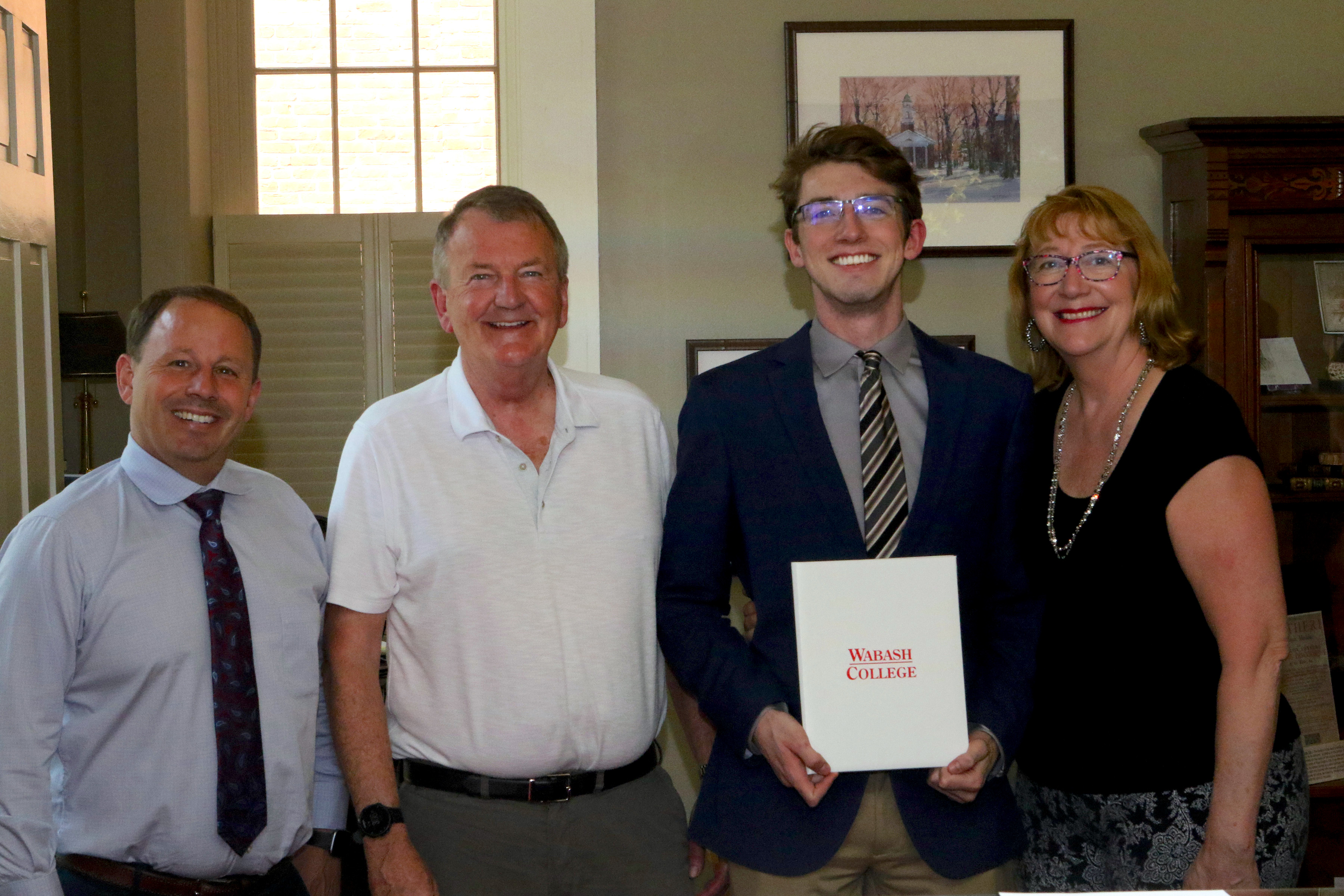 "You can have all these aspirations and goals but if you don't have fuel for the rocket, you can't get the rocket off the ground," Andrew said. "It's really exciting to be a part of the solution that will give future students that fuel for the rocket.
"I hope this gives people who may have been hesitant an opportunity to really jump into physics. Because it is fun," he said. "It's not just physics. It's a way of thinking. It's a way of learning. It's a way of living. It's a way of looking at the world. And it will be fun to watch the next cohort of physics students discover all of that with the help of excellent professors and support from this fund."
The Rippy family also hopes the fund inspires others to support future generations of Wabash students.
"We want to lead by example," Randy said. "We think it's important to show gratitude to a place that's meant so much to the three of us."