Vasilios Antonopoulos. Clarke Criddell. A.J. Martino. Kevin Ballard-Munn. Samuel Pipiras.
Walt Snodell '68 looked on with pride as he watched those five students march across the Commencement stage in May to receive their degree and a rose, before being led through the Senior Arch as the newest graduates of Wabash College.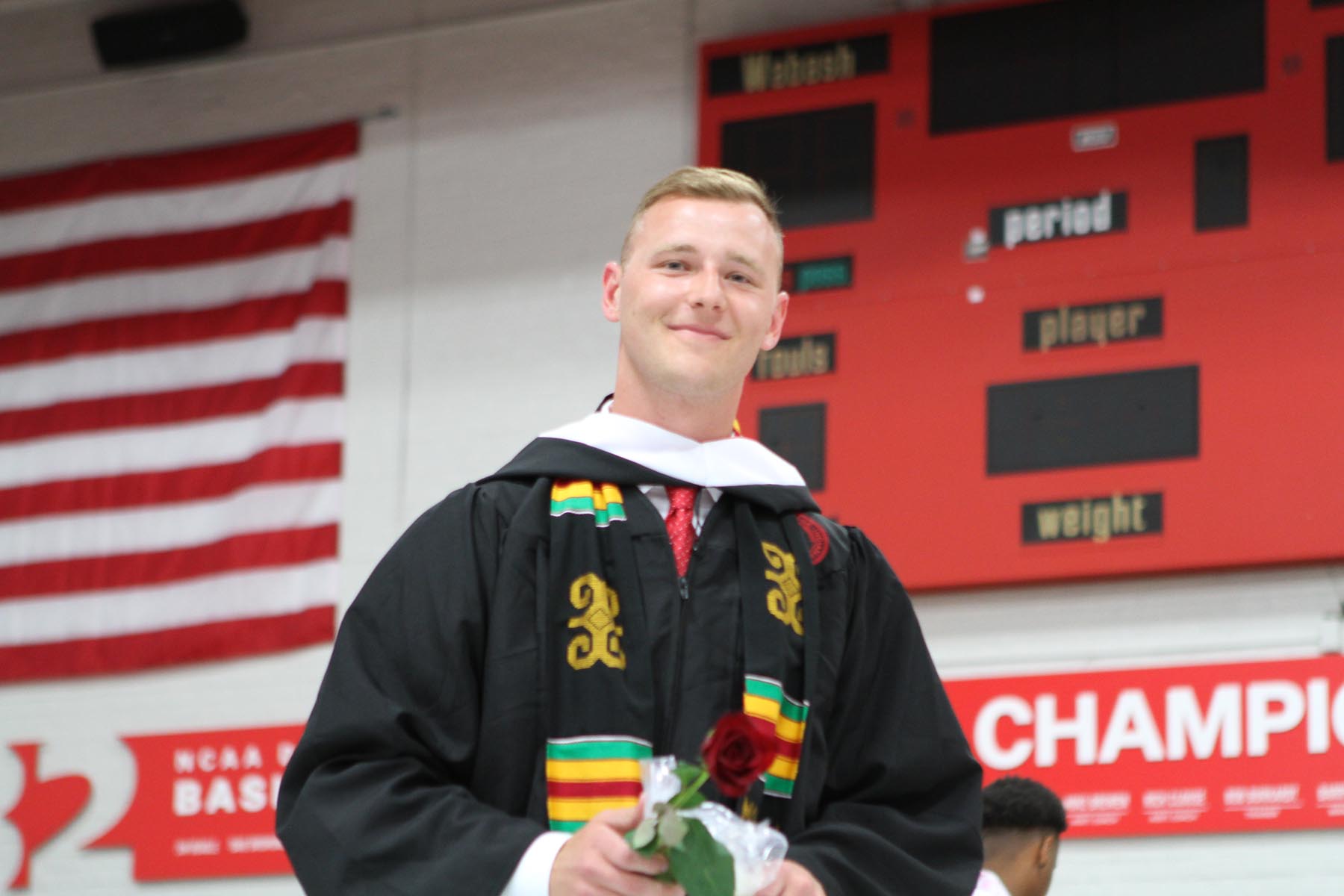 Those Class of 2022 members were the first cohort of Snodell Scholars to graduate since the program launched in 2018. The scholarship program, established by Walt and his wife, Kathy, was created to make a Wabash education available to a greater number of students from the Chicagoland area.
"We're really happy and proud of these young men," Walt said. "Graduation was special. While I was there, I learned that two out of the five students were graduating cum laude. That's cool, especially when I think back on my grades as a student. I did well enough on my senior comprehensive exams, but I certainly didn't graduate with high honors like those scholars did."
Each of the five Snodell Scholar graduates took advantage of their scholarship, Walt said, and distinguished themselves in their Wabash careers through a variety of leadership roles and academic achievement.
Antonopoulos, a philosophy, politics and economics (PPE) and political science double major from Tinley Park, Illinois, was involved in numerous extracurriculars, including Moot Court, and was awarded the William Nelson White Scholarship Award from the Pre-Law Society.
Criddell, a rhetoric major from Calumet City, Illinois, was a member of Phi Kappa Psi fraternity, participated in the Wabash Liberal Arts Immersion Program (WLAIP), and was a member of both the track and cross-country teams.
Martino, a PPE major from Monee, Illinois, worked as a rhetoric tutor, a mentor with Wabash College Mentors for Kids, and served in multiple leadership roles with Sigma Chi fraternity.
Ballard-Munn, a theatre and political science double major from Creve Coeur, Illinois, performed in multiple productions put on the by theatre department, and was involved in numerous extracurriculars, including The Bachelor student newspaper.
Pipiras, an economics major from New Lenox, Illinois, served as a senior innovation consultant with Wabash's Center for Innovation, Business, and Entrepreneurship (CIBE), competed on the Little Giant football team, was a member of the Malcolm X Institute of Black Studies, and served as a leader of Beta Theta Pi fraternity.
"All those scholarships can do is make available a four-year Wabash experience. What students decide to make of it is entirely up to them," said Walt, a member of Wabash's Board of Trustees and Chairman and CEO of Peerless Industries, Inc.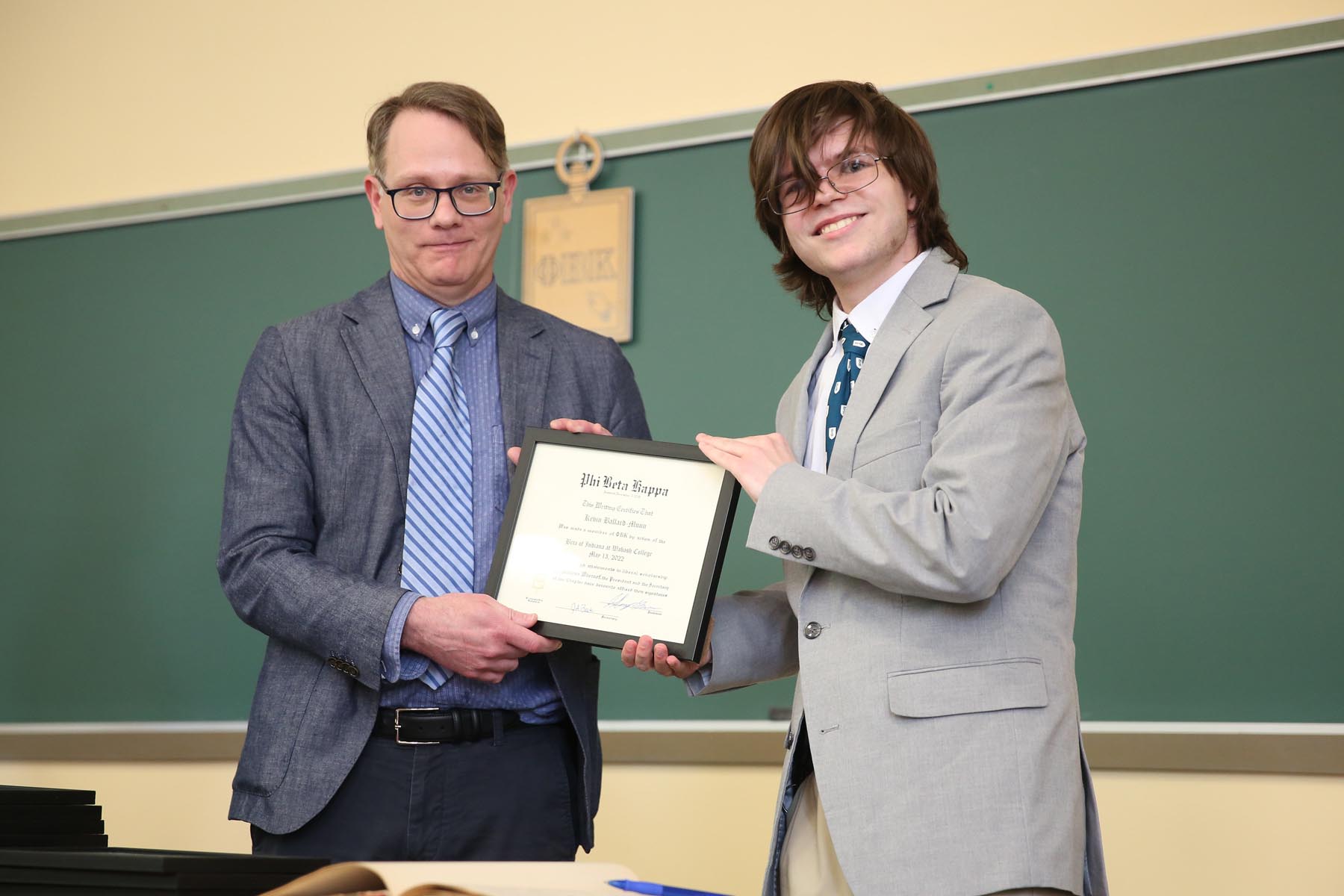 "These five graduates took advantage of the opportunities," said Walt, a history major and independent. "They are bright and really did strive for excellence. If you get in the habit of doing that during college, that will translate into a successful life after graduation in many ways."
The Snodells established the scholarship program four years ago as part of the Greater Chicagoland Initiative, which was designed to help the College with recruitment and enrollment efforts in a region that Walt and Kathy both call home.
The Greater Chicagoland Initiative focuses on four components: scholarships, a Chicago-based Admissions counselor, marketing, and support for recruitment events outreach for students in Chicago, its suburbs, southern Wisconsin, and eastern Iowa.
The initiative was also envisioned as a potential template to use in expanding Wabash's recruiting efforts. Its success is encouraging replication in places like Dallas and Fort Worth, Texas, Phoenix, Arizona, and Southern California.
"Kathy and I wanted to expand the College's footprint," Walt explained. "If Wabash wants to continue to be recognized nationally as a top-quality institution, we have to draw our student body from more than just Indiana.
"We thought it would be helpful if kids could afford to come to Wabash who have the wherewithal to make it. Since we're both Chicagoans, we both had the attitude that it was time to create a scholarship for Chicago kids," he said. "We've seen, especially with the first graduation class, that the program is a success. Each year, we've seen a big pool of highly competitive candidates."
Since 2018, 64 students from the greater Chicagoland area have been awarded Snodell Scholarships. Recipients receive grants up to $10,000 annually to help cover the balance of tuition and fees not covered by other grants and aid.
Pipiras expressed his thanks to the Snodells and shared how the program has impacted his life during a recent reception in Chicago, where 16 high school seniors were awarded scholarships from Kathy, who represented the donor couple at the event.
He told the incoming students that he was in their shoes four years ago before entering a new chapter in his life, filled with "uncertainty, excitement, nervousness, and a little bit of doubt," but thanks to the help of the Snodells, he was able to not only make it, but thrive at the College.
"Someone I love, admire, and look up to recently told me that Wabash has changed me, and I agree. This place is supposed to do that," Pipiras said. "It's supposed to allow you to find out who you are in this world – your likes, your dislikes, and everything in between. The Snodell family has allowed me, and other recipients like myself, the freedom to do that here at Wabash College."
Pipiras then, by surprise, presented Kathy with a plaque from the Class of 2022.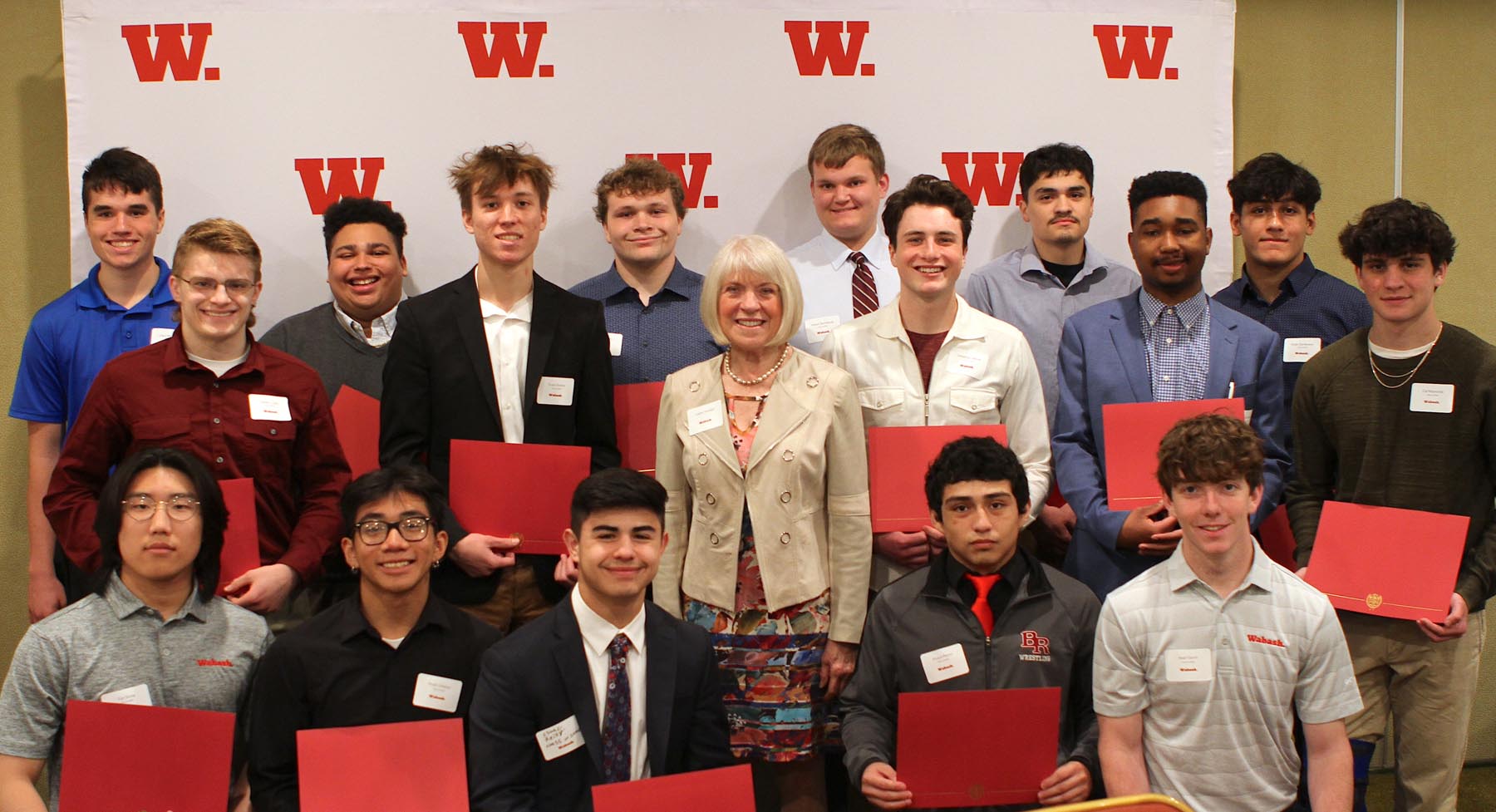 It read: "As we complete our education at Wabash College, we are very thankful for your investment in young men from the Chicagoland area. The Snodell Scholarship has graciously impacted our lives by allowing us to focus on the most important aspect of school: learning. It is our hope that one day we will be able to help young men achieve their goals like you did for us. On behalf of the first graduating Class of 2022 Snodell Scholarship recipients, we would like to thank you for your generosity, your time, and dedication to the Wabash family."
The recognition was unexpected and a special moment for the Snodells to share with future students and the first graduating class of scholars.
"We all need and get help along the way. Many times, we don't even know it, and we're almost never in a position to pay it back. But we can pay it forward when it's our turn. That is what the Snodell Scholarships are all about," Kathy told students at the scholarship reception.
"You will experience a lot at Wabash. You'll come away from Crawfordsville having learned how to think critically, act responsibly, lead effectively, and live humanely. You will hear that mantra a lot in the next four years. Own it, live it, and when your time comes, pay it forward."
The Greater Chicagoland Initiative and Snodell Scholarships are part of the Giant Steps Campaign, the largest comprehensive campaign in the history of the College focused largely on growing Wabash's endowment for scholarships, faculty, academic programs, and cross-cultural immersion learning experiences.