How do you secure the future of Wabash College and honor its past?
It was a question that Kevin G. Clifford '77 pondered heavily before he and his family gave an extraordinary $10 million gift to the College. Many conversations were had and memories of his time at Wabash were shared, but the answer was simple for the former quarterback.
"I give you Little Giant Stadium and Frank Navarro Field," Clifford said homecoming weekend, when he returned to campus and was joined by Frank's wife, Jill Navarro, and 25 members of the Navarro family in celebration of the new facility.
Little Giant Stadium and Frank Navarro Field was dedicated at halftime of Wabash's football game against Allegheny — the first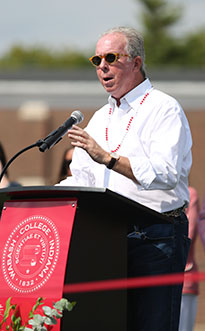 played in the $15 million facility. The Little Giants secured a 36-28 victory.
Clifford chose to pay tribute to former Wabash football coach Frank Navarro, who passed in June, by naming the playing field in his honor.
Navarro served as head coach of the Wabash football team from 1974-1977. He finished with a record of 26-17 and guided the 1976 Wabash team to a 7-3 record, the first winning season for the Little Giants on the gridiron since 1965. Navarro completed the turnaround of the football program when his 1977 team posted an 11-2 record and earned the first NCAA playoff berth in school history – one that ended in the national championship game.
"Let's think about what Frank, Jill, and family did for this college and the fifth-winningest football program in the history of NCAA Division III," Clifford said. "When you think of the young men that Frank and his coaches recruited, and all of the coaches that followed them, it's filled the ranks with alumni who are out there today doing remarkable, incredibly important things that are making the world a better place.
"I think if Coach is looking down on us right now — and I am sure he is — that would make him incredibly proud," Clifford said.
Ahead of the homecoming game, Wabash College President Scott Feller announced Clifford was the lead donor who made it possible to build the stunning new Little Giant Stadium.
"Kevin has given his time, talents, and treasure to Wabash for four decades, but this extraordinary gift allowed us to create one of the finest stadiums in NCAA Division III," Feller said. "All of us at the College are grateful for Kevin's generosity and commitment to his alma mater. Kevin's lead gift for Little Giant Stadium is truly transformational, and it will make an enormous difference for our scholar-athletes, alumni, and all who love Wabash."
Clifford played quarterback on Wabash football teams in the 1970s and was an assistant coach in 1977 when Wabash went 11-2 and played in the Amos Alonzo Stagg Bowl.
As an alumnus, he served on the Board of Trustees from 1994 through 2014, led a presidential search committee, and was on the cabinet of two capital campaigns that raised more than $200 million for Wabash.
Clifford spent his entire 37-year career with the Capital Group companies. He rose to become Chairman and Chief Executive Officer of American Funds Group, and was a key member of the Capital Group's management committee.
He is a member of the Board of Directors of the National Football Foundation/College Football Hall of Fame, which has a mission to promote the power of amateur football in developing the qualities of leadership, sportsmanship, competitive zeal, and the drive for academic excellence in America's young people. He is also on the boards of The National World War II Museum and the United States Olympic and Paralympic Foundation.
"I was fortunate to play and work for Coach Navarro," Clifford said. "The lessons learned under his tutelage served me well in life and business. Discipline, attention to detail, perseverance, sacrifice, and teamwork were of paramount importance to Coach Navarro and we all benefited from his leadership.
"My family and I hope the new Little Giant Stadium will provide future generations of Wabash scholar-athletes, coaches, faculty, and the broader community a best-in-class facility in which to compete, learn, and win!"

Little Giant Stadium includes seating for 3,550 fans in the main grandstand, suites, and the W. Club Lounge, which bears the name of Clifford and his family.
The new facility also includes game operations and media booths, relocated scoreboard, a new playing surface, all-weather track, and expanded restroom and upgraded concession areas. Within the main concourse is the Hall of Giants, which will pay tribute to Wabash's accomplishments in intercollegiate athletics.
Dean for College Advancement Michelle Janssen said Clifford's leadership and catalyzing philanthropy moved the vision for a new stadium from a list of "someday projects" in the College's Campus Master Plan to the top of the list.
"All of us appreciate Kevin's abiding gratitude to Coach Navarro, and are so pleased and proud that the field bears his name," Janssen said. "We are grateful to his classmate, Gary Reamey '77, for leading our efforts from the architect's first sketches through completion of this amazing stadium."
The Stadium was designed by the DLR Group's Kansas City-based Sports Design arm. F.A. Wilhelm was the general contractor that managed all aspects of construction. Continental Office Group designed the signage and graphics for the stadium.