David Phillips' fondness for the faculty in the Wabash chemistry department led him to make a Giant Steps Campaign bequest to restore one of the College's oldest endowed professorships. The legendary chemist shared his intentions in an interview shortly before his death in March 2021.
When David Phillips H'83 retired as Professor of Chemistry, he knew he needed to give his younger colleagues in the Chemistry Department the opportunity to flourish outside his shadow. He also sought other ways to be of service to Wabash.
As he neared retirement after 36 years as Professor of Chemistry, President Andy Ford asked him to lead the planning and construction of Hays Science Hall and, later, the renovation of Goodrich Hall. Ford frequently said, "With David on that project, I can be sure that it will be done correctly." And it was. Under Phillips' watch, Hays Hall transformed the northeast end of campus and became a true showpiece building.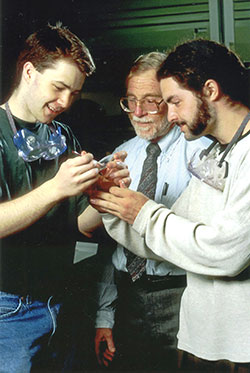 Then, after his wife of 49 years, Pru, died in 2009, Phillips threw himself into research on Wabash's history. "The more I researched, the more I realized that Wabash had a rich history that many people knew nothing about. I developed a passion for this research though I can't explain why. But I found these to be stories worth sharing," said Phillips, who died March 4, 2021.
Over the next decade, Phillips spent hundreds of hours in the Ramsay Archives reading and writing about the College's history. He wrote scores of articles and handbooks, including a history of campus buildings and detailed biographies of the College's presidents, founders, and early scientists. He also edited and completed Max Servies' sprawling history of Wabash athletics, Some Little Giants.
One particular research project focused on endowed professorships that had lapsed over time, which included stories about the earliest donors to the College – and the names of all the faculty who held the professorships until they faded into memory.
"Each department in Division I lost one professorship after World War II," Phillips said. "I thought it was unfair that some of the major donors to the College had been forgotten. Edwin Peck, Chauncy Rose, Simon Yandes – these men donated money to pay Edmund Hovey and Caleb Mills and John Lisle Campbell – some of the great men of the 19th century. And these professorships are now gone."
Phillips thinks Wabash has an opportunity through the Giant Steps Campaign to attract donors who are willing to reinstate the lapsed professorships. And he's leading by example. Because of his deep respect and fondness of the current chemistry department faculty, his estate gift to Wabash will restore the Edwin J. Peck/David A. Phillips Professorship in Chemistry. The gift honors Peck's role as a major benefactor during the College's first 50 years.
Peck's connection to Wabash began when he married Mary Thomson, whose brothers' and nephews' names are inscribed on the Thomson Memorial Seat, a.k.a., the Senior Bench. Peck served on the Board of Trustees for 23 years, during which time he contributed funds to establish the Peck Professor of Chemistry and for the construction of Peck Scientific Hall.
Henry R. Thomson (1877-1884) was the first of 10 members of the faculty to hold the Peck Professorship, which was last held by Lloyd "Doc" Howell from 1940-1959.
President Scott Feller announced that Associate Professor of Chemistry Laura Wysocki will be the first to hold the re-established Peck/Phillips Professorship in Chemistry.
"Laura has had a wonderful career here," Phillips said. "She's had a very successful research career and shares publication with a Nobel Laureate. But most important, Laura loves teaching and she really likes these students, and you can see that it's reciprocated. Her students love her and that's unusual because organic chemists have a reputation for being frightening – and she is anything but."
The Peck/Phillips Professorship is awarded by the President of the College to a faculty member who demonstrates a profound commitment to teaching and mentoring undergraduate students, leadership and excellence in the discipline of chemistry, and an understanding of chemistry's role in the broader context of the liberal arts and its value and application in life and the course and progress of history.
David Phillips exhibited all of those characteristics over his more than 50-year relationship to the College, its faculty, and its students. And now he is ensuring that future faculty will be rewarded for their efforts – just as Edwin Peck intended almost 150 years ago.
"My intention [with my bequest gift] was to restore Peck's name as a major donor to the College in the 19th century," Phillips said. "I have a pretty strong sense of justice and injustice. It seems so unfair to those original donors – and to the early recipients of the professorships, who were all major figures in our College. I saw this as an opportunity to right a wrong."
Memorial gifts honoring David Phillips are allocated to the Peck/Phillips Professorship fund.