As Peter Wilson '84 was approaching high school graduation, he remembers searching for the perfect school to spend his next four years.
He wanted a campus that offered both a rigorous academic and a vigorous athletics program.
Wabash College offered those opportunities, and more.
"I remember going down, visiting campus and then coming back home and telling my parents, 'This all-male thing, I'm having a really hard time with that,'" chuckled Wilson, who today has served as a Board of Trustees member since 2010 and as the Chair of the College Life Committee.
"But I then said, 'From the people I met, Wabash feels like home,'" Wilson said. "It felt like I had found my people. The coaches and staff took an interest in me that was genuine. The students were goal-oriented, mature, and seemed like the kind of young men that I wanted to be like."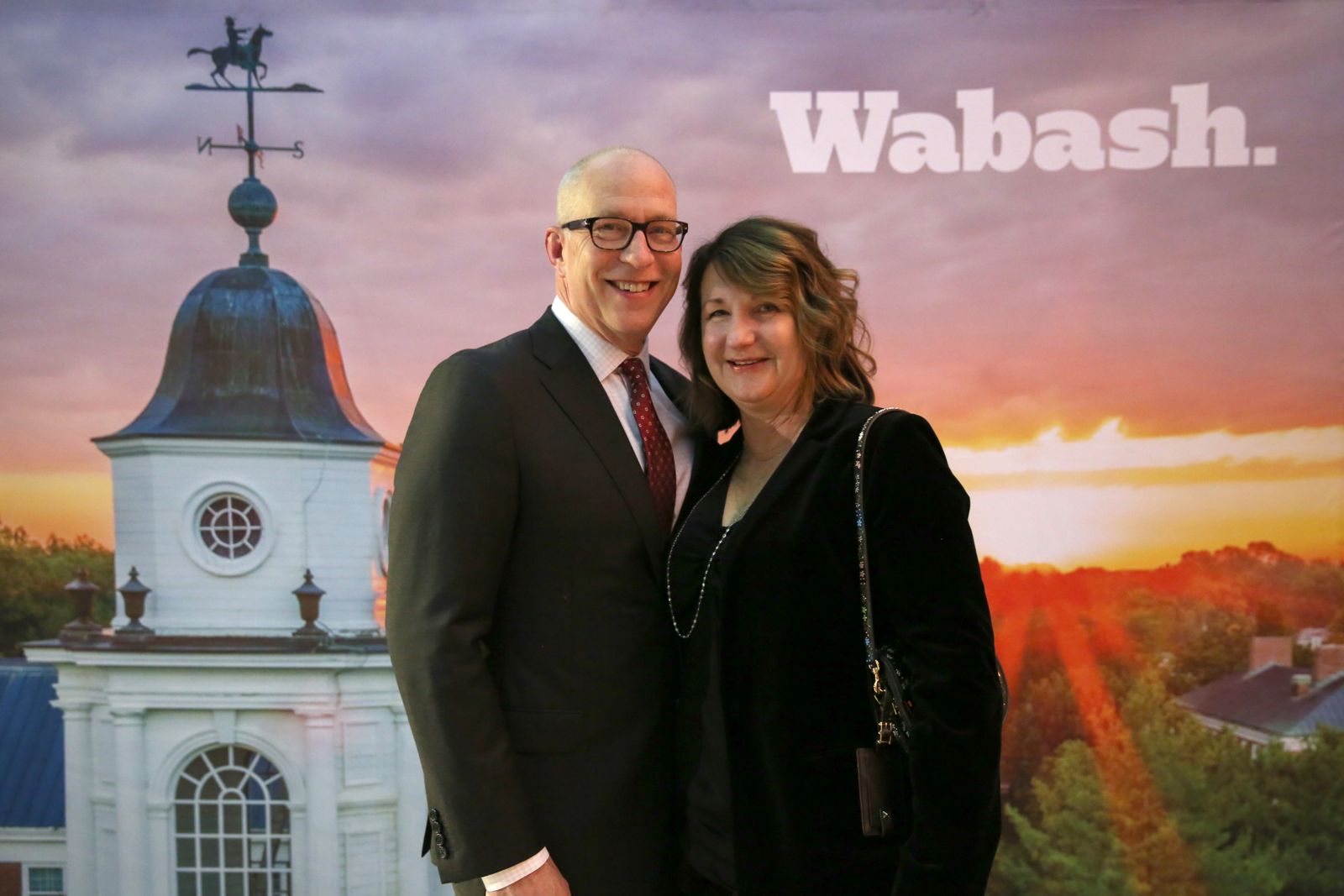 Wilson went on to make the most of his college experience as a biology major. He joined Beta Theta Pi, was active with the Sphinx Club and played on the Little Giants football team.
"It was all about the connections," Wilson said.
"I had friends in our fraternity, on the football team and all across campus," he said. "There was just this connectedness, and that's what drove me to get involved. It was this development – both from my peers, the faculty, coaches, and administrators in my life – who always told me to get involved, make an impact, and whatever you do, commit to it with drive."
After graduation, Wilson earned a master's degree in 1987 from the Indiana University Kelley School of Business, and began working for his father at Pyromation, Inc., a manufacturer of temperature sensors based in Fort Wayne, Indiana. He purchased the family business in 1992 and currently serves as the president.
Wilson contributes his successes to his Wabash education, and says he's grateful for the opportunities the College extended beyond the classroom.
Beyond the merit scholarship he received, Wilson was a full-pay student, and he later realized a significant price comes with this kind of education, and that not all Wabash men can make it happen without financial support.
"One of my best friends from college, who was one of my fraternity brothers and best man at my wedding, his dad lost his job during the recession in the early 80s. I remember during a chapter meeting he came in and said, 'Guys, I won't be back in the fall. My dad lost his job and I can't afford Wabash. I'm going to have to withdraw,'" Wilson recalled. "Somehow, the college came up with a way to fund the difference, and about a month after letting us know that he wouldn't be there, he came back and said he was staying at Wabash."
That memory and the emotions that the students felt together always stuck with Wilson.
"From a 19-year-old's perspective of the world, you think, 'Oh, that's great,'" Wilson said. "And then, as I got older, I realized those things don't just happen by magic."
"Fast forward a decade, I was on a successful career track and had a better understanding of philanthropy, and I told myself this is the time," Wilson said. "I want to help other students attend and remain at Wabash."
As part of the Giant Steps campaign, Peter and his wife, Melani, made a commitment to establish the Peter C. Wilson Scholarship with both outright gits and an estate gift to Wabash College.
The scholarship is awarded to a student with need equal to or above the cost of full tuition, and is renewable to the same student each year, for four years, as long as they meet the minimum requirements for continuation at the College. A new recipient will be chosen every four years.
"I was an Honor Scholar at DePauw University, which meant that half of my tuition was paid for," said Melani Wilson, entrepreneur and owner of The Find, a lifestyle general store in downtown Fort Wayne. "Without that program, I wouldn't have been able to go to that school."
The Wilsons met while they were in college, and the two have been together now for more than 30 years and have three children. Melani Wilson said the couple always said they wanted to "pay back" their scholarships, and give to students who needed the financial support.
"Through playing sports, making connections with his friends and fraternity brothers and networking with alumni – Wabash really helped shape Pete into the man that he is today," Melani Wilson said.
"I wish we could do 500 scholarships," she said with a chuckle, "but we're happy to start this one, and excited to see that it is making a difference and creating the same kind of opportunities Pete got to experience as a student."
Tag Lawalin '22, majoring in history and minoring in German, is the first Peter C. Wilson Scholarship recipient.
"It's hard to put into words what this scholarship means to me," said Lawalin, of Indianapolis, who chose to come to Wabash College for its rigorous academic and athletics programs and student/faculty ratio of 10:1. Having attended a high school with more than 4,000 students, Lawalin said having access to and the opportunity to form real connections with professors was important to his higher education experience.
Without Wilsons' scholarship, he said attending Wabash wouldn't have been possible.
"If I didn't have this scholarship, I wouldn't be where I am today," Lawalin said, who is a Theta Delta Chi brother and football team manager. "There were other schools that I got accepted to, but because they didn't offer financial support, I had to immediately check those off of my list. Wabash was the only one that provided the help I needed.
"A lot of students are struggling financially and these kinds of scholarships help in a big way, especially during COVID," the junior said. "Other colleges don't have strong alumni support like Wabash, where graduates want to give back and provide funding to those who definitely need it. That's sad, and as a result, students don't get the kind of opportunities like I've had to be successful in life.
"We need more people out there like Mr. Wilson," Lawalin said. "I can't thank him enough."
Board of Trustees member Jennifer Evans, who serves as the Vice-Chair for the College Life Committee, agrees with Lawalin. She said Peter Wilson's philanthropy is admirable and his passion for students is an inspiration to others in the Wabash community.
"Pete and Melani epitomize the extraordinary Wabash couple, with their commitment of time and generosity to the College; and, specifically to the students," Evans said. "Pete's leadership on the board is an example for every trustee. His every concern is for the students, to ensure their success while at the school, and afterwards."
Peter Wilson not only hopes to form connections with future scholarship recipients – just as he did with the donor who funded his merit scholarship at Wabash – but he also hopes his story and act of philanthropy inspires others to give back and support future generations of Little Giants.
"The intent of the scholarship is to help students who show significant financial need. That's one of the great things about the mission of the College. When you speak with many accomplished alumni in whatever field who become very wealthy, so many of them came from humble backgrounds," Peter Wilson said. "Often you hear them say their ability to attend Wabash was because someone provided financial aid, and then they turn around and do the same thing.
"To me," he said, "that's what it's all about."