Jay Williams' love of broadcasting dates back to his time as a Wabash student. It was in the mid-1960s when he swung a deal to buy a commercial radio station from a local Baptist church and established WNDY on campus.
He eagerly drove the programming, which included live broadcasts of Wabash football and basketball games, as well as local high school sports and even church services. The station had a staff of 75 students by the time Jay was a senior in 1966, and he thrived on the energy that was created when students from all over campus came together united for one purpose.
With a head full of ideas after leaving Wabash, Williams worked in radio for decades – starting as a DJ, then working his way from programming to sales and eventually station ownership in New England. Succeeding in radio in that era required a quick mind, strong work ethic, and wicked sense of humor. He found all of those things when he met his wife, Jennifer, who was a radio sales manager.
Then and now, radio is to Jay the ultimate expression of free speech, something about which he remains passionate. That passion drove Jay and Jennifer to support two new programs at Wabash through the Giant Steps Campaign.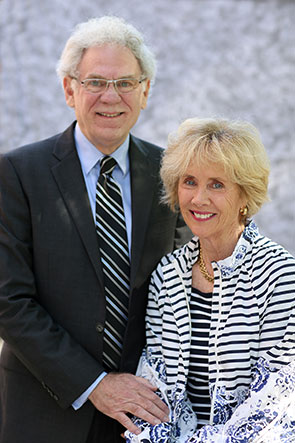 Combining his interests of free speech, sharing ideas, and bringing students together led Williams to make a gift that helped start the Wabash Democracy and Public Discourse (WDPD) initiative. As a founding member of the WDPD Advisory Committee, he helped write the mission statement, which begins with a quote from legendary Speech Professor William Norwood Brigance: "Why speak? To keep a society free."
WDPD advances the kinds of deliberation, discussion, debate, advocacy, and free speech that cultivate democracy. That's right up Jay's alley. As a broadcaster, communications entrepreneur, and lifelong advocate for free speech, Williams embraced the opportunity to develop WDPD with Associate Professor of Rhetoric and WDPD Director Sara Drury and then-President Gregory Hess.
Students involved with WDPD help foster conversations between real-world parties that disagree and need help coming to the table to make progress. They leave Wabash as young men having learned and applied skills in oral and written communication, leadership, public affairs, and civic awareness. They also become skilled listeners, which is critical to problem solving.
Williams believes that WDPD makes people realize that free speech is an important value and that disagreement, when carefully managed, leads to problem solving.
"Disagreement is the beginning of solutions and creation," Williams says. "You disagree with someone and they disagree with you, but you have to work together if you want to solve a problem. You need to be able to discuss and debate difficult topics, and sometimes that requires a broker. Our young men in WDPD are those brokers – they take a topic they know very little about, research it thoroughly, facilitate difficult conversations, listen to both sides, and help people find areas of agreement to actually get to a solution.
"I don't think we've ever needed the WDPD more than we do right now," Williams says.
Adam Burtner '17 was in the initial group of WDPD Democracy Fellows and facilitated several community conversations on topics like drug use in Montgomery County, sustainability, and racism. He now works in policy and economic development for the Indianapolis Chamber of Commerce, and he gives full credit to the WDPD for giving him the skills he uses today.
"WDPD was by far the most impactful and influential aspect of my Wabash experience – that only continues to be proven true as I professionally encounter the public policy issues facing our communities today. Issues that desperately need the focus and solution-oriented process of a WDPD deliberation and the artful skill of a trained facilitator," Burtner says.
Williams, a member of the Wabash Board of Trustees since 2012, also believes Wabash men need to be exposed to a wide range of opinions and ideas. So, along with his college friend, Larry Landis '67, and others, he provided start-up funding for the President's Distinguished Speaker Series (PDSS), which brings to campus a wide range inspiring and influential thought leaders.
"The idea was to bring some of the best, most interesting speakers to our campus and have them here long enough to be able to spend some one-on-one time with our students," he says.
The events are free, open to the public, and routinely draw large numbers of students, which is exactly what Williams envisioned. Previous speakers have included attorney David Kendall '66, New York Times columnist David Brooks, U.S. Senator Mike Braun '76, IDEA Public Schools founder Tom Torkelson, author David Sedaris, New York Times Crossword Editor and NPR Weekend Edition's Puzzle Master Will Shortz, and poet, journalist, and author Clint Smith, to name a few.
"College is not about a career; college is about life," says Williams, whose interests include broadcasting, marketing, journalism, rare books, historic preservation, good food, and craft beer. "The goal of college should be to broaden your experiences. Speakers can do that – they're sharing stories, they're sharing ideas, they're sharing thoughts. You can disagree with 90% of it, but maybe there is an idea that strikes you or gives you the opportunity to learn. That's what speakers do – they pollinate our minds with ideas."
Just like Economics Professor Ben Rogge did when he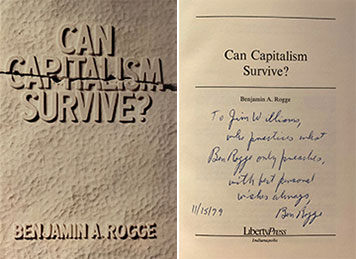 surprised Williams a few years after his graduation by sending his new book on economics that included this inscription: "You're out practicing what Ben Rogge only preaches."
Burtner recalls learning much from Williams during WDPD Advisory Committee meetings. When making a presentation to the committee, Burtner argued for heightened regulation of certain speech on social media sites. Williams immediately railed against the freshman's position and urged Burtner to strengthen his response.
The "ah ha" moment came later when Burtner altered his argument with hopes of gaining Williams' approval. The student couldn't even finish talking before Williams was all over him again. "What I couldn't quite process at the time, but have now realized, is that Jay Williams lives to argue and debate," Burtner said. "Going against the grain of conventional positions is in his DNA."
WDPD and the President's Distinguished Speaker Series have made Wabash a stronger, more dynamic institution. In both programs, students are exposed to ideas – often radically different – and wrestling with those ideas is the key to learning.
Williams' work for his alma mater doesn't stop there. As Vice Chair of the Board's Building and Grounds Committee, he played a key role in the development of the Ott Residential Life District and led the College's redesign and renovation of Martindale Hall – and supported it with yet another Giant Steps gift.
He also has been in active conversations about the renovation of Lilly Library and the early planning for a new campus center. A few years ago, he worked with President Hess to create Wally's, a proof-of-concept pub in the Sparks Center. His goal in working with the critical Campus Life District is to bring students out of their living units to spend time with one another.
"I'm a person who believes in the concentration of energy," Williams says. "We are a tiny college, so when you allow people to live in different places, you have lower energy and less engagement among various groups. My whole goal with all of these things – the speaker series, WDPD, and campus life – is to concentrate that energy and increase engagement. Wabash taught me to be an independent thinker, to question things, and to immerse myself in ideas. But I learned so much from people all over campus – from listening to people with different ideas."