When her husband Roger C. Senkbeil '68 passed away, Carol Senkbeil recalls how the church choir in which they both sang left his seat empty for some time. It didn't feel right to have anyone else sitting in the seat that usually hosted his rumbling bass voice. It was a way for Carol and the rest of the choir to remember him.
Now Carol is honoring Roger in another way: with an endowed scholarship in his name, awarded to a member of the Wabash College Glee Club in memory of Roger's love of singing and his time as a member.
Roger Senkbeil graduated from Wabash as a psychology major, a brother of Phi Delta Theta, and an active member of the Glee Club. He attended graduate school in Colorado and worked in California before returning to Indiana, where he met Carol. They married in South Bend in 1989.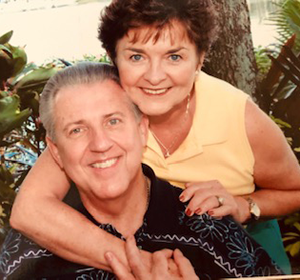 It was the Glee Club that strengthened the couple's connection to campus over the years. They came back frequently for concerts, and Carol got to know the school that shaped her husband through each new generation of Glee Club members.
She didn't know much about Wabash before meeting Roger, but Carol recognized the trait that connected her husband to other Wabash men. "The College is good about making gentlemen out of young men. Whether the young men know it or not, that's being instilled in them."
In January 2017, Roger retired from AXA Equitable in Mishawaka, IN, where he was a financial advisor for more than 30 years. Previously, he served as director of a rehabilitation facility, Marshall Starke Redevelopment Center.
It was at AXA Equitable that Roger first took out the life insurance policy that, after appreciating for many years, ended up constituting part of the gift used to endow the scholarship. "He took a policy out for family, and then another to Wabash," Carol remembers.
Major Gifts Officer Jordan Brewer '11, who met with Roger and Carol often, remembers Roger fondly. "He told me something once that I'll never forget. He said, 'Carol and I have been blessed so that we can bless others.'"
After he passed in December 2017, Carol asked herself, "How do we best honor Roger?" It was an easy decision to further his original wishes with a gift to endow a scholarship.
The Senkbeil gift will help Wabash recruit young men with diverse interests and skills to the Glee Club. The scholarship will also create Giant Value for future generations of Wabash men and their families as part of the Giant Steps campaign.
Roger helped found the St. Joseph Valley Association of Wabash Men which is still active today. For nearly 20 years, he organized a yearly golf outing in South Bend which benefitted Wabash students from the area.
Roger was also active with several local organizations over the years, including South Bend Civic Theater, the Blair Hills-Hillside Villas Board, NAIFA (National Association of Indiana Financial Advisors), the Economic Club of Michiana, and the Mishawaka Business Association.
When Roger passed, Carol remembers an outpouring of support from the Wabash community. She says it's comforting to know that as long as there is a Wabash College, there will be a student receiving the Roger '68 and Carol Senkbeil Glee Club Scholarship.
"I want people to know he was a wonderful man. The scholarship is a way to keep him alive, to remember him."