During his inaugural address in 2013, President Gregory Hess spoke about the "simple gifts" of a Wabash liberal arts education—and the need to ensure that those simple gifts are available for future generations of Wabash men.
Then he and Lora quietly began making gifts of their own, devoting themselves to bringing about the Wabash they believed in. Those gifts and that vision culminated last year in the launching of Giant Steps, the largest campaign in the College's history.
For the Hesses, it was never a question. It's a matter of belief.
"We believe in the mission of the College," the 16th Wabash President says. "We believe Wabash supports an important conversation that's happening in our society right now."
Lora is quick to echo that sentiment. "We're all in for Wabash. And if you don't show that you're all in for Wabash, how can you expect others to follow?"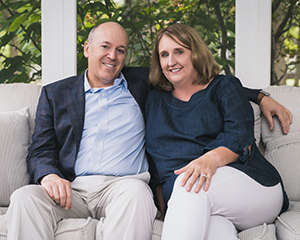 It's the question on their mind constantly: "How do we empower young men and prepare them for a world where diversity, inclusion, and equity are universally held values? Every day we are working with our students to operationalize our mission to think critically, act responsibly, lead effectively and live humanely."
In recent years, the Hesses have translated that belief into substantial gifts with a student-first focus; they gave to help start the lacrosse program, to the Fund for Student Housing, and to the Annual Fund, which all bring the Giant Steps Campaign closer toward its goal of raising $225 million. They've recently announced that Wabash is included in their estate plans, too, with a substantial endowment gift for student scholarships.
They chose to support the Fund for Student Housing and the Annual Fund because they knew that was where they could make a big difference. And fast.
"With the Fund for Student Housing," Lora says, "we saw there was a need, a way to help ensure that enrollment at the College continues to thrive. The decision was easy." Their gift helped the College complete a recent $23 million investment in new and renovated student housing.
And the Annual Fund? Gregory explains: "We know as well as anyone that the Annual Fund is essential—it touches all elements of our programming. It supports faculty and students; it supports between seven and eight percent of the College's operating budget every year."
But their contributions don't stop there. During both the leadership and public phases of the Giant Steps Campaign, Gregory and Lora have been pivotal in harnessing the energy of people who, just like themselves, feel called to action by their belief in Wabash.
That group of people is larger and more diverse than ever before, and Lora is quick to note that spouses, partners, parents, and friends have appreciated that fact. "It's become a much broader conversation than in prior campaigns. As a small college, you can never have enough friends. It's been important to harness that energy."
When Gregory and Lora came to Wabash in 2013, they found friends of the College who were engaged and looking to take big strides to move the College toward its third century.
The looming bicentennial was a big part of getting Giant Steps on its feet. "For a lot of our donors, their strongest impression of the College was the first experience they had, either as a student or a mom or a spouse," Gregory says. "Everyone brings a different memory to the table.
"When we talk about 2032—when we talk about a vision for Wabash's future—it's easy to buy in."
So, what do they hope the College looks like in 2032?
"We're not looking to build Taj Mahals here," the College's President says. "Wabash will always have a Midwestern, intimate sense; a kind of snow globe feel. This will always be a place where you get what you earn; a place where if you work hard you'll do well, and you'll make your own luck.
"But in 2032, Wabash will be leading the charge on quality student experiences; we'll have the flexibility necessary to handle whatever the higher education landscape and society throw at us."
After an ambitious stretch of travel—in late 2018 and all of 2019, Gregory and Lora participated in 30 Giant Steps events in 27 different cities—does their belief in their work ever waver?
Lora laughs. "He always says to me: how lucky am I to have a job where I get to focus on educating young people?"
"When our heads hit the pillow, we know someone is becoming educated, someone is moving their life forward," Gregory says. "We can say we've given our time, talent, and treasure to the College, and we wouldn't ask anyone to do what we weren't willing to do ourselves."