Jack Oest is quick to point out that, when it came time for him to start planning his estate, it was easy.
Easy to not think about it at all, that is.
"I think a lot of people fall into this trap. Not because you're a procrastinator, although that's part of it. But thinking about yourself dying? There must be something more fun to do," Jack says with a laugh.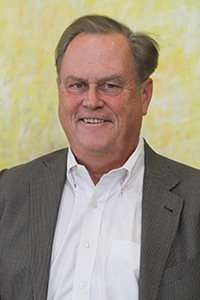 When he did finally start to think about it, Oest says, "Wabash popped into my mind immediately. There wasn't a big light that came on—it was like I realized I'd been on this path for a long time."
That path recently led to Oest committing a substantial, seven-figure estate gift to the College that will endow a fund to bring prominent speakers to campus every year. The gift is meant to honor his grandfather, the late and much-lauded Wabash Professor W. Norwood Brigance.
By most accounts, including his grandson's, William Norwood Brigance shouldn't have stayed long at Wabash after he arrived in 1922. The now-legendary speech professor was then a young talent teaching both history and speech and quickly started getting offers to teach history elsewhere. After deciding he was really a speech teacher, he would get offers later in his career to head up speech departments at various prestigious schools.
Yet Brigance remained at Wabash for 38 years, until his death in 1960. He loved teaching curious Wabash students and cited them as the reason he stayed. In the wider academic world, he published troves of articles on speech and defined the field with his popular textbooks. On campus, he was known simply as "Briggie;" his classes were challenging but in high demand. He helped churn out generations of well-spoken Wabash men and ushered them forward into meaningful careers and lives.
He was a giant in his field and community. After Brigance died, President Byron Trippet wrote in Wabash On My Mind, "there was an unspoken feeling that Wabash would never be the same."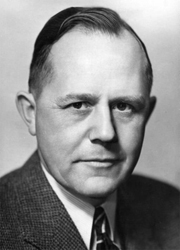 How does Jack remember him? "Dimly," he says through a smile. "I do have a few clear memories, but I was only seven years old when he died." Though Jack grew up in Crawfordsville and graduated from Crawfordsville High School, his father was in the service during his early childhood and the family moved often. They only settled in Crawfordsville after Brigance passed, and so many of his memories are of Christmas holidays spent visiting his grandparents' place on 104 West College Street.
But as he got older, Jack (whose middle name is Norwood) began to study the life of the man whose name he shares.
Jack looked through his grandfather's amateur slide photographs and read his books. ("I would kill to be able to write like him," he says.) He studied many of his grandfather's old handwritten letters and, in fact, recently transcribed a series of letters that Brigance sent home to his mother from World War I as a way to celebrate the 100th anniversary of their writing.
Most of all, he talked to the students who had had Briggie as a teacher, the ones who had interacted with his grandfather as a peer. That's where the instinct for this gift came from, actually.
"The more I looked into him, the more people I talked to that said he was really a tremendous figure," Jack says. "In the end, the gift is consistent with what he spent his life here doing. It's my way of honoring that."
Coincidentally, in 2008 Jack retired from practicing corporate law to take up teaching himself. After a career as a partner at Lord Bissell and Brook, he's spent the next nine years teaching law at John Marshall University Law School in downtown Chicago before retiring for good in 2017.
It was a surprise to the College when Jack floated the idea of an estate gift. "I kind of came up with this on my own," he says. "I had no prior history of giving with Wabash. I come down every year for the Brigance forum, but it was out of the blue."
What does he hope his gift will do for Wabash?
Jack pauses on this question for a moment. "I'm realistic enough to know that time fades away, and that people won't always remember who my grandfather was.
"But when outstanding speakers come to campus every year, and people of the Crawfordsville and Wabash communities gather to listen to them speak, I hope that all those people will hear a little something about who my grandfather was and what he achieved. Only at a school like Wabash would that make sense."