John C. and Diane Schroeder love to travel, and they love the impact travel has on Wabash College students.
The Schroeders, whose involvement with Wabash stretches more than half a century, have made a gift to Wabash that comes with a giant promise for future generations of Wabash men.
The promise? Their gift to the College's Giant Steps: A Campaign for Wabash College, when coupled with existing endowed funds, will guarantee that every future Wabash student has the opportunity for a fully funded immersive learning experience.
John, a member of the Wabash Class of 1969, is thankful for the chance to help recruit future generations of Wabash men. "You look for the areas that will make a prospective student think, this is what will put me over the edge. These immersion trips are such a draw for Wabash."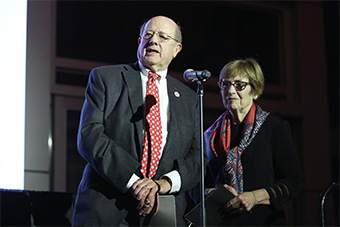 The Schroeders' gift is part of the largest comprehensive fund-raising campaign in the College's 186-year history. The Giant Steps Campaign seeks to raise $225 million in four specific areas: further endowing Wabash's generous scholarship programs; funding faculty professorships, chairs, and academic programs; supporting capital projects and the Annual Fund; and, of course, providing domestic and international immersive learning experiences for all Wabash students, either through traditional study abroad programs, semester-long immersion courses, or other immersive educational experiences.
At the campaign launch on Nov. 9, Wabash President Gregory Hess announced that the College had raised $150 million in the leadership phase, more than any previous campaign in Wabash history.
Wabash immersive experiences routinely come at no extra cost to the student. Though the cost of each trip can vary dramatically, the College's commitment to sending up to 275 students traveling per year marks a serious investment.
John and Diane, an honorary member of the Class of 1999, have a history of supporting Wabash men abroad. One such student is Sam Vaught '16, a Crawfordsville native who remembers watching his high school friends leave town for college. But he's never regretted his decision to stay home. "Ironically, by going to Wabash and choosing to stay in Crawfordsville, I was able to travel the world in a way that wouldn't have happened at any other college."
Sam credits a semester abroad at Harlaxton College in Grantham, England, supported by the Schroeders, with opening up the world to him. After the semester ended, he says, "I wrote them a thank you letter, telling them what my experience had been like and what I was hoping to do with that experience in the future."
John and Diane still have Sam's letter—they keep all of their letters from Wabash students. "It's things like that that have given us an appreciation for how these trips change Wabash men," Diane says.
The Schroeders want Wabash students like Sam to be confident when they leave Wabash; they also know that if anyone is going to take advantage of the opportunities offered by travel, it's Wabash men. Diane says, "There's just a difference in the students here. Wabash students want to know about everything. It's this genuine quest for learning all the time."
John, president and CEO of Wabash Plastics and Crescent Plastics in Evansville, IN, was elected to the Wabash Board of Trustees in 1994; he is also on the Board at the University of Evansville and helps to support their international counterpart, Harlaxton College.
Diane has spent a lifetime dedicated to her community in Evansville, serving on the board of numerous charitable organizations. A gifted violist in her own right, Diane also founded the Evansville Philharmonic Youth Orchestra and served the Evansville Philharmonic as its Board Chair and Advisory Council Chair.
The Schroeders are continuing a legacy of giving established by his John's father, John H. Schroeder '42, after whom Wabash's Schroeder Center for Career Development is named. The elder Schroeder served on the Board of Trustees, and the John H. Schroeder Interdisciplinary Chair in Economics is endowed in his honor.
Immersive learning has never been more important to Wabash, and now this valuable program is set to continue in perpetuity.
Classics Professor Jeremy Hartnett '96 knows that there is no better broadening experience for a Wabash student than a course that includes an immersion component. "On every trip we have a student who has never flown on a plane before. The students come away from these courses empowered and itching for more."
Especially in the Classics, Hartnett has witnessed firsthand the value of travel for his students. "Even in the best professor's hands, the ancient world can feel like a fantasy land you only encounter in the library." Actually stepping foot in these ancient cities, Hartnett says, makes the Greeks and Romans real. "You feel their looming presence, either by standing below a towering temple, hearing the acoustics of a theater, or feeling the roughness of their roads.
"At Wabash we are committed," continues Professor Hartnett, "to making immersive learning the purview of every student, rather than just those who can afford it."
Thanks to the generosity of John and Diane Schroeder, that is exactly the promise — a giant one — that Wabash now can make to future students.