"Where is the need?"
It was the simplest of questions from Jay Allen '79, and the answer carries a great deal of weight.
"I want to know where the needs are and that's what I try to support."
Jay and his wife Susan recently made a $2 million gift to the College's Giant Steps Campaign that celebrates Wabash's rich tradition of athletics and recreation in the building that bears his family name. The gift will, in part, provide state-of-the art equipment for recreational users and varsity athletes alike, including a completely refurbished fitness center and new weight room, while improving the experience for Wabash students and boosting the College's recruitment efforts.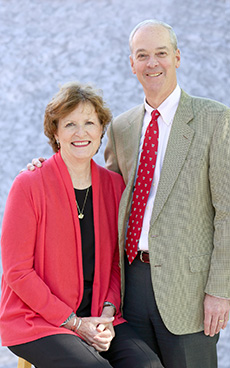 The generous gift continues a legacy established by his parents, Bob '57 and Betty H'57, whose $10 million gift in 1998 made the Allen Athletics and Recreation Center possible.
Twenty years later, Jay is appreciative that the Allen Center remains essential to the Wabash experience.
"I'm very proud to have our name on a facility that is so important to students and which demonstrates the commitment we have to our students," said Jay, who is in his second year as Chair of the Wabash Board of Trustees. "Our commitment to providing funds continues to do what my dad did in making sure this facility remains important and relevant to students."
Susan was succinct in her commitment, "We wanted to support it, in part, because of how important it was to Jay's dad."
The Allen Center, and what it represents to the Wabash community, is as essential to Jay now as it was to his father when that keystone donation was made.
"Wabash was clearly a very important part of my father's life, and it's become an important part of my life," he says. "I'm so impressed with what this College does for young men and the impact it has on so many men who have the ability and interest in making something more of themselves. That is what makes me continually dedicated."
A self-described good student, Jay finds himself leaning on some of the lessons gained both in and out of the classroom, and the maturity that comes from a little perspective.
"I learned things here that I didn't know I was learning at the time," he says. "I look today at how I approach life, how I approach some of the issues we face – people taking sides on everything, people not listening to others. I learned at Wabash that it's okay to have your own idea, but you always listen to somebody else. You are always open to discussion. You are always considerate of others' views and opinions. I attribute that to my experience here at Wabash College."
The economics major and current Managing Director for Bank of America Merrill Lynch freely admits that the idea of making such a large donation isn't easy. The Allens often ask those simple questions: what's important or how can we make a difference?
It comes down to priorities.
"Susan and I are fortunate to have sufficient resources to live comfortably and support our children," he explains. "As we consider other ways to share our good fortune, Wabash College is at the top of the list."
That support has paid dividends not only to a generation of Wabash students who prepare as vigorously for the upcoming 125th Monon Bell Classic as they do for a mid-afternoon cardio session, but the faculty and staff who use the facility in a multitude of ways as well.
"One of the things I've really enjoyed about our support of the Allen Center is that it's the whole community that benefits," Jay says. "We would support whatever the College needed, but It's nice that we're able to support something that is an enhancement not only for the students, but the broader community as well."