The hallmark of a liberal arts education is the professors who have a profound and lasting impact on their students.
Emeritus Professor of Chemistry John Zimmerman H'67 excelled at this for nearly 60 years with the hundreds of Wabash men who had opportunity to witness his innovative teaching and student advising.
"Dr. Z always informed me that the best he could possibly do as a professor was to teach me how to teach myself, and I've carried that lesson with me for a number of years," said Brad Maxwell '83, a senior scientific fellow at Vertex Pharmaceuticals Inc., and one of three alumni who returned to campus in October to speak as part of the annual Careers in Chemistry panel.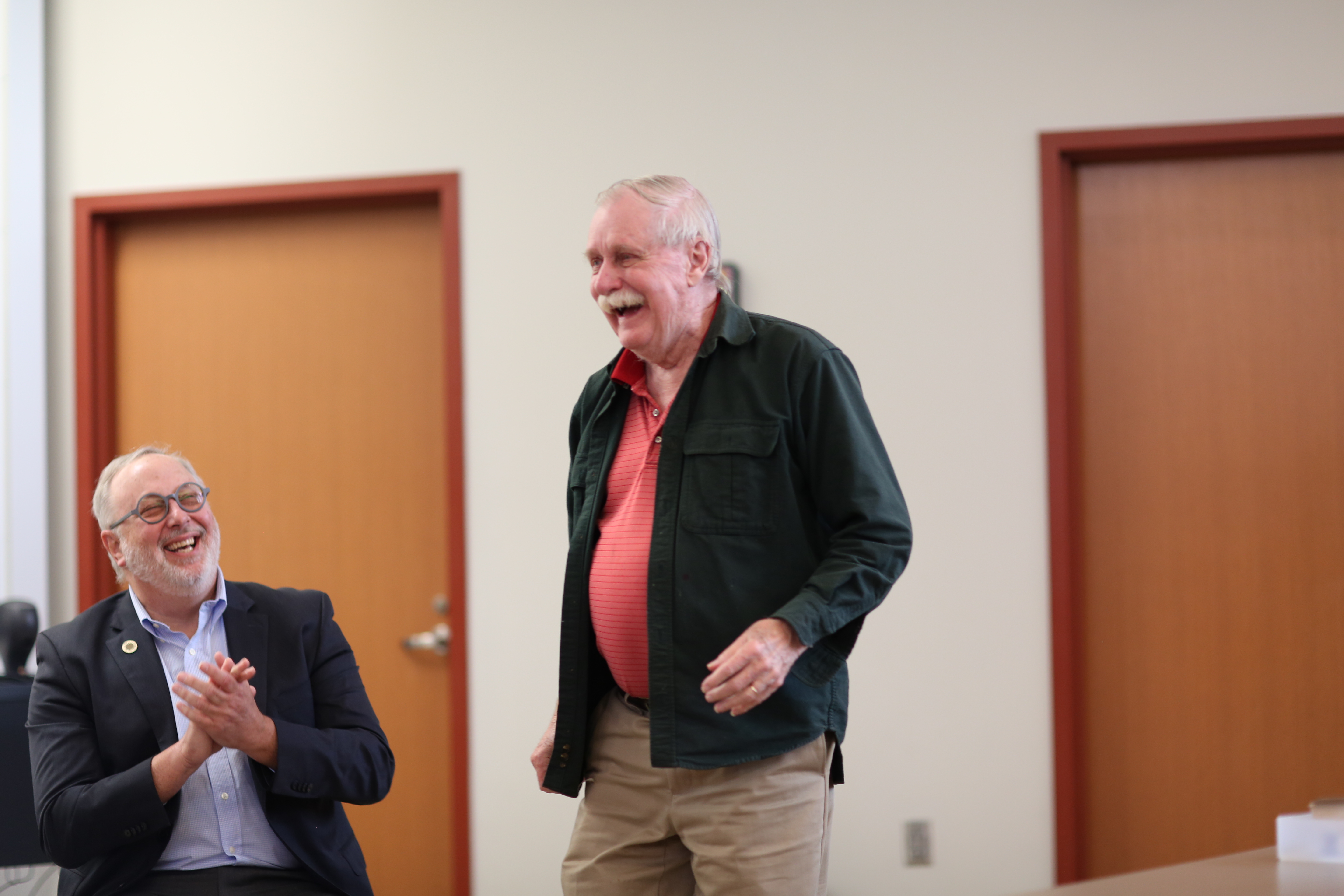 "My junior year our basketball team won the national championship in Grand Rapids, Michigan. A group of us decided to drive up to the game on Friday, and that obviously meant we had to skip a few classes. One of those was Dr. Z's analytical chemistry," the chemistry major recalled. "When the bus came back to campus with the players, I was watching the celebration and I felt this tap on my shoulder. There was Dr. Z. He said, 'Brad, I know you missed. You might want to stop by the mailbox because we're going to have a quiz next week.' He had all the handouts neatly aligned, waiting there for me.
"He knew exactly who was in class and who was not," Maxwell said. "Dr. Z looked out for me."
Hosted by the chemistry department, the Careers in Chemistry panel gives students the opportunity to learn about the different kinds of professions they can pursue as a chemistry major.
But this year's event was extra special as Maxwell, and several other alumni, Wabash faculty, family, and friends surprised and honored "Dr. Z" by announcing a new endowed fund established in his honor.
The Dr. John F. Zimmerman H'67 Fund for Innovative Teaching and Technology will support course design that incorporates new technology, novel teaching practices utilizing technology within existing courses, the replacement and updating of lab instruments, and associated upgrades to Hays Science Hall classroom technology that support teaching innovation.
Fund donors include Russ Bostick '79, Bryan Daniels '81, Chris Halkides '83, Ray Knight '69, Frank Kolisek '82, Brad Maxwell '83, Scott Rathgaber '84, Tom Roberts '70, Mark Simmons '73 and John Van Drie '74.
"These alumni are among the many hundreds of Wabash students who learned from you, who were motivated by you to dream a bit bigger and expand their horizons, and who are grateful for your guidance," President Scott Feller addressed Zimmerman at the event. "In keeping with your principle 'theory guides but experiment decides,' these donors have cemented your legacy at Wabash by establishing an endowed fund that will help ensure the chemistry department will stay on the cutting edge of technology by advancing novel teaching, and providing equipment as needed."
Initial gifts and commitments to the fund from generous benefactors have topped $400,000, Feller said, and that total is expected to grow even more over time.
Dr. Z's Philosophy
"It's hard to put into words how I feel. That recognition from my students and seeing this fund come together is special," said Zimmerman who joined Wabash staff in 1963 and taught for 41 years before retiring in 2004.
Zimmerman pushed the boundaries of teaching, and was a pioneer in using hand-crafted handouts and the personal computer in his Wabash classroom and laboratory. He also brought technology to the wider chemistry community in the form of instructional videos produced in the University of Wisconsin Serahim program. He also helped create EZChem, a computer graphics analysis program that was used in physics and chemistry labs.
Outside of the classroom, Zimmerman chronicled the most important events that happened at Wabash for decades as the official photographer and videographer for the Glee Club and theater department.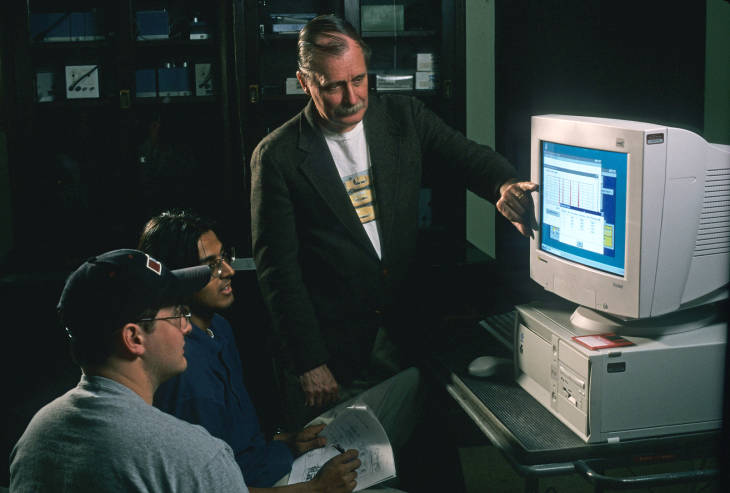 In 1995, he brought his love to teaching, photography, and technology together when he and some other chemists at the University of Wisconsin recorded lab demonstrations and "burned" them to a laser digital disc. This disc could be sent anywhere in the world to provide digital delivered instruction.
Among Zimmerman's many accomplishments were his selections as an Outstanding Educator of America in 1971 and as a recipient of Wabash's McLain-McTurnan-Arnold Excellence in Teaching Award in 1978.
"My philosophy as a teacher was that I was always open to anybody. My students knew that no one was working harder for them than me," Zimmerman said. "There's a picture on display in the Goodrich Hall office of the outside of the building at night. One light was left on in the photo. That was my office. That was my tradition. The light was always on and the door always open as I created lecture handouts well into the night."
One student who benefited from Zimmerman's kindness and drive for excellence was Van Drie, a Wabash chemistry major and president of Van Drie Research, a consulting firm that provides drug discovery expertise to pharma and biotech firms globally.
"Words fall short in trying to express my gratitude to you," Van Drie wrote in a letter to Zimmerman ahead of the fund announcement. "Your passion for science was a model for everyone in your presence. You sustained a creative environment in which I could discover talents I never knew I had."
New Tech in Chemistry
Department Chair and Associate Professor of Chemistry Dr. Laura Wysocki said the Dr. John F. Zimmerman H'67 Fund for Innovative Teaching and Technology will greatly support faculty as they work to advance their own instructions and classrooms.
"There are new instruments out there that are even better for teaching. Our faculty are really innovative in how we want to think about teaching, but sometimes funding can be a limitation," Wysocki explained.
"If there's a brand-new tool for computational chemistry that our new physical chemist, Joe Scanlon 03', wanted to use, for example, we can now actually purchase that technology for him thanks the generosity of alumni," she said. "We can purchase things for the students to use in a hands-on way. I think that's the updated version of tinkering that Dr. Z used to do."
Wysocki said having the ability to have new, advanced technology in the classroom will also help students succeed beyond Wabash.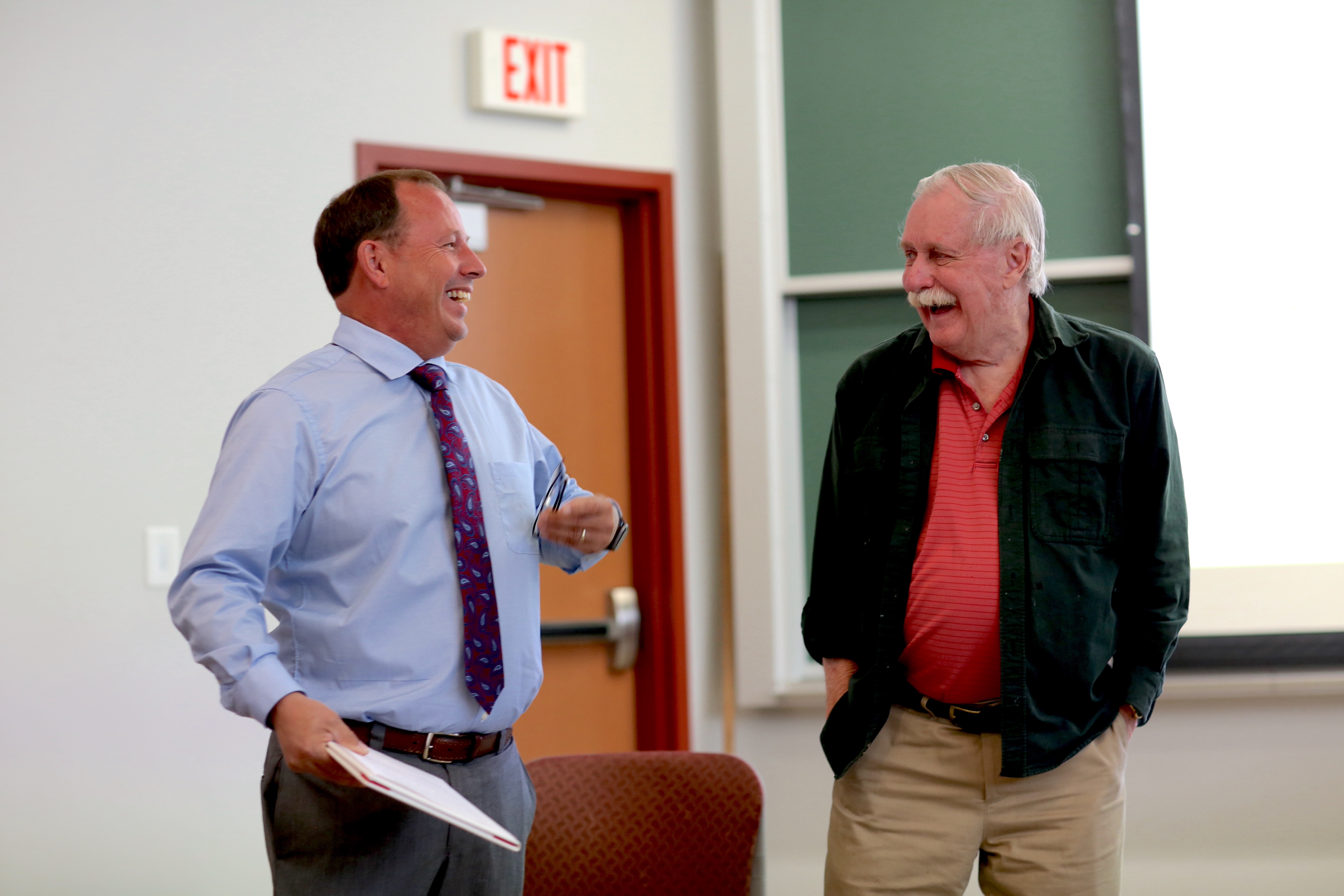 "That's one of the benefits of being at Wabash – the support for new technology for our students," she said. "I've already seen it in my organic chemistry lab. Students can visit Eli Lilly and Company, for example, and they'll see some instruments that they used in my lab. That gets them excited.
"That's what (professors) want to see happen," Wysocki said. "We want to prepare students for those next steps, and show them that a Wabash education is cutting-edge."
Zimmerman, who remains active in the department even in retirement, said he's excited to see the funds be put to good use.
"I see this as an avenue to support creative methodology and instrumentation for teaching at all classroom and lab levels," Zimmerman said, "and for our faculty to be innovative in their thinking of new ways to do so."
Alumni and friends interested in adding to the impact of the Dr. John F. Zimmerman H'67 Fund for Innovative Teaching and Technology with their own philanthropy may contact the Advancement Office for more information at giving@wabash.edu or 877-743-4545.