Getting to Wabash wasn't too difficult for Kip Chase '03, a first-generation college student from Bedford, Indiana, who was recruited to the College to play basketball.
Being able to stay after his first year on campus, however, was a different story.
And if it wasn't for the philanthropy of others, Kip is confident he wouldn't be where he is today as a husband, father, and employee of one of the world's largest pharmaceutical companies.
"In order for me to stay at Wabash, I needed help," said Kip, who was a Pell Grant recipient.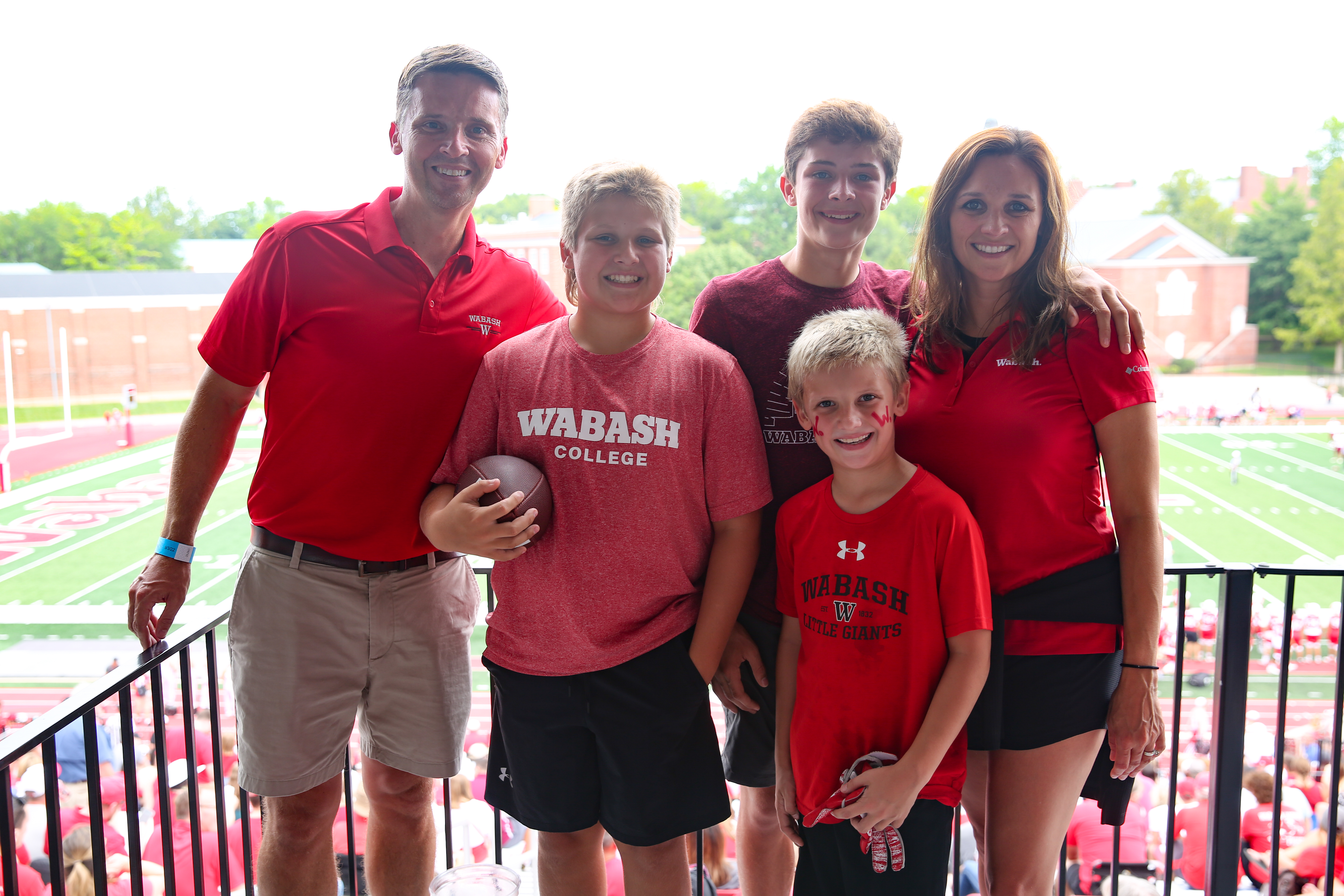 "I still remember that day my sophomore year when I was called into Dean Tom Bambrey's office. He told me that an alumnus had made a gift to the College, and that I was awarded a scholarship that was going to help me for the next two-and-a-half years," he said. "That gift at that moment was so important to me."
Kip, current president of the National Association of Wabash Men (NAWM), said having that support helped him thrive as a student.
He graduated magna cum laude as a history major, was a recipient of the Frank Hugh Sparks Award for All-Around Student Achievement, and was a two-time letterman on the Wabash basketball team. Kip was also a resident assistant in Martindale Hall, served as student body vice president, and was active in Student Senate and Sons of Wabash.
"When I first got to Wabash, I remember being scared to death and having imposter syndrome, asking myself, 'Am I going to be good enough to do this?' Those feelings are not just exclusive to me. I think we all, as new college students, can struggle to find our way in this world. But being a first-generation student added some extra pressure financially," Kip said.
"After I found out I was going to be OK and that I had the financial aid I needed, I continued to make the dean's list and got more involved on campus," he continued. "The imposter syndrome faded away. I knew that I was going to be successful."
Kip interned at Eli Lilly and Company in Indianapolis while at Wabash, and was then offered a full-time job at the company in 2003 as a sales representative. He has now been with Eli Lilly for 19 years, and works as the vice president of human resources for Lilly's Pharma Business Units and Lilly USA.
In his early years working at Eli Lilly, Kip met his wife, Nicole, who is a DePauw University graduate and was also hired to work as a sales representative after college. Today, Nicole serves as the senior director of health, safety, and environment for Lilly's global sales and marketing affiliates.
The Chases wanted to give back to the College like it did to Kip years ago. The two recently took a giant step for Wabash, and established The Chase Family Scholarship, a fund that was created to focus on the needs of upperclassmen.
The Chase Family Scholarship will provide support for students with demonstrated financial need, who are enrolled full-time at the College, and who are in their sophomore, junior, or senior years of study. Future recipients of this scholarship should be exceling academically and taking full-advantage of the many curricular, co-curricular, and extra-curricular opportunities available at the College.
"So many people have invested in us and pulled us along in our lives, so we believe it's our turn to give back," Kip said. "When we were working with the College to come up with an idea of what we wanted this fund to be, we thought back to when we were both students who were thriving and having a great experience but needed somebody to help us. We want to do the same for future generations of Wabash men."
Like Kip, Nicole benefited from the support of others who helped get her to where she is today.
Nicole studied communications at DePauw and had aspirations of becoming a journalist. As her senior year was approaching, she realized the financial burdens she would face pursuing a job in the media industry.
"To prepare for a career in broadcast journalism, you had to make 100 demo videotapes and mail them out across the nation to different TV stations, and just hope that somebody called you. I had no money to do that," Nicole recalls.
"After doing internships and learning what the starting salary was of a journalist, I panicked and realized I couldn't even afford to take on this job. And my parents were not in a position to help me as I was leaving college."
Eli Lilly recruiters visited the university shorty after that, and Nicole decided to give a career in sales a try, though she had no prior experience in that field.
"Lilly gave me a chance, and I went to work in sales for the first five years after graduation. I've been able to utilize my communications background in every position I've had at Lilly including sales, marketing, working for the foundation, and now in a global health, safety and environmental role," she said. "That all happened by chance, good timing, and support of friends at Lilly who helped encourage me along the way."
Kip and Nicole both believe in the power of philanthropy, specifically education and local community needs.
In addition to the NAWM, Kip sits on the board of directors for Conner Prairie. Nicole is a member of Wabash's Women's Collective Leadership Council, and sits on the board of directors and chairs the marketing and fundraising committee for Felege Hiywot Center, an organization that focuses on urban youth leadership and community development through STEAM-based educational programming. She is also a member of the Mutz Philanthropic Leadership Institute through the Indiana Philanthropy Alliance.
In 2003, the two started a scholarship fund in Bedford, Indiana, for first-generation college students.
Nicole was born and raised in the city of Wabash, a small community in northern Indiana, where she witnessed the generosity of several philanthropic families who "set up foundations to ensure a thriving community for generations."
"This early exposure to the generosity of others instilled in me the desire to want to do the same when I had the chance," she said.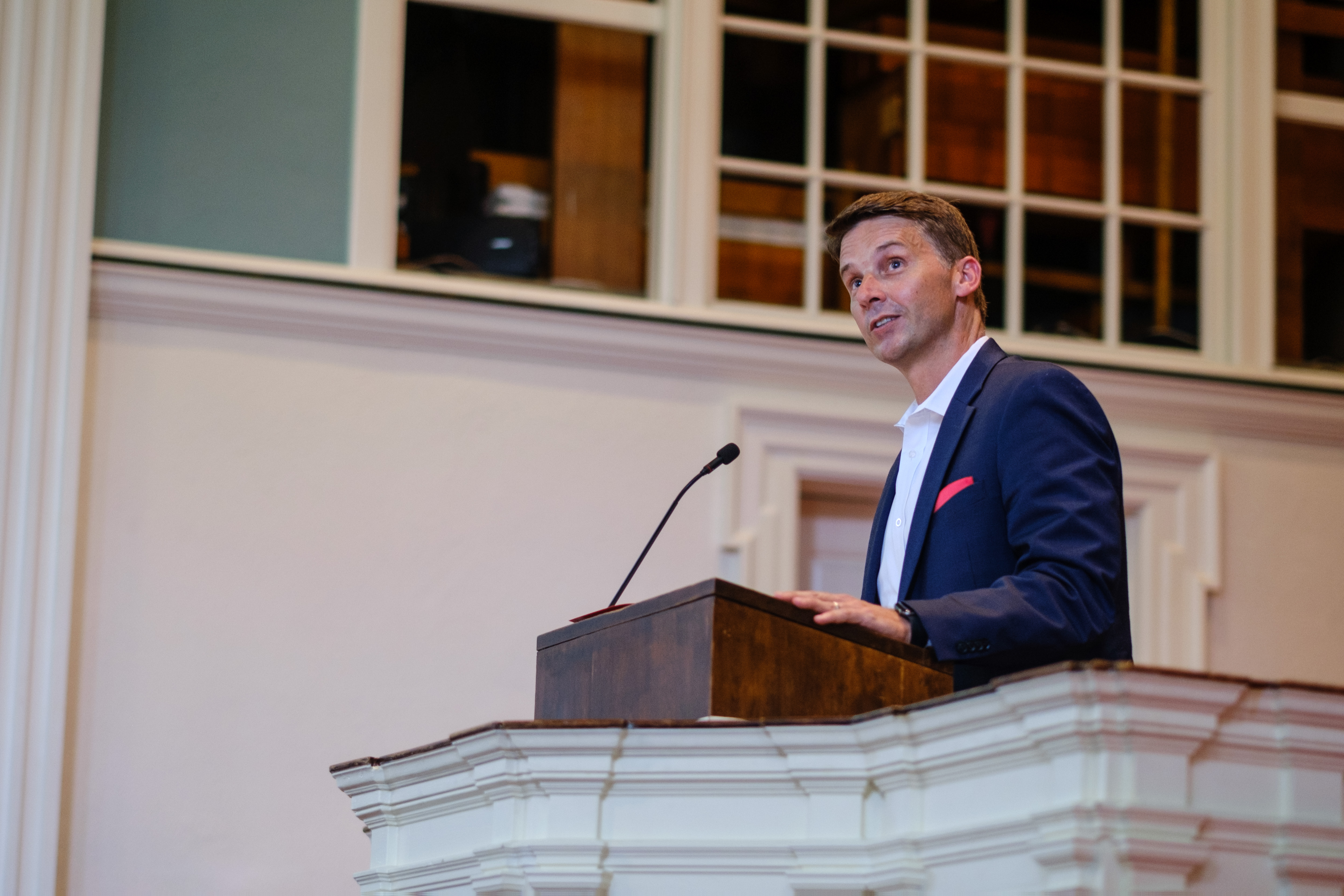 Including 'family' in the name of the scholarship fund for Wabash was deliberate, and done as a way to instill the importance of philanthropy and generosity in their "future Little Giants" Jack, Andy, and Will.
"By naming it the Chase Family Scholarship," Nicole said, "it enables our sons to take some ownership in it as well, and gives us an opportunity to teach them about giving back."
The couple said they view this scholarship as an opportunity to lead change and help improve outcomes.
"I believe our society needs good men. Now more than ever, it needs good men that are pillars of their families and local communities. It's important that we have well-educated, critical thinking men that help navigate and solve some of the biggest problems that we have today," Kip said. "That's a reason why we continue to believe in Wabash, and will do what we can to support these future leaders."
"This scholarship is also a 'thank you,'" Nicole added, "to all the generous donors who paved the way for people like myself and Kip."