When Cory Olson's four years at Wabash were coming to a close in 1985, he knew there was really only one choice left for him to make. It was the big one, the one that might define his life from that point forward. He spent his last weeks on campus surveying the opportunities in front of him, weighing the options… then he took a giant step.
Cory will tell you he went through the same process in 1985 that every Wabash graduate goes through now: work hard for four years, scrap to make yourself the best candidate you can be for that first job, and then make a choice and rely on the toolset Wabash gave you to pull yourself upward and onward.
But, Cory says, there's a big difference between him at 22 years-old and recent graduates. They both have the same critical liberal arts education, but today's Wabash graduates are entering a more competitive hiring world (and job hunting in the mid-80s was no walk in the park). The key difference, though, is that today's Wabash men have access to a vast and ever-growing collection of resources to put them at a competitive advantage.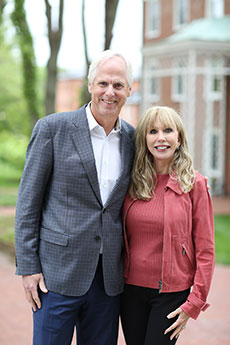 Cory spent the next 30 years rising through the ranks of the banking and investment worlds, founding and leading different firms and companies to national success. His office door is the one that tends to say "president" or "chief-something" on it. A few years ago, he reconnected with his alma mater in a big way; the already-engaged alumnus became a member of the Board of Trustees. Today he serves as chair of the Board's Building and Grounds Committee and a key member of the advisory committee for the Center for Innovation, Business, and Entrepreneurship (CIBE).
Now, he and his wife Leigh have made a $900,000 commitment to the Giant Steps Campaign that extends the runway of the CIBE and provides significant support for the student CIBE Partners, who continue to stack up accolades, job offers, grad school placements, and experiences that will serve them throughout their lives.
When Cory re-engaged with Wabash, the CIBE was very much in start-up mode. Students involved with the Center's programs were achieving tremendous success – real evidence of the evolution of the College's professional development efforts.
"What I saw in the CIBE's concepts – and heard about from the students – hit something near and dear to my heart," Cory says. "It's a chance to, within the liberal arts context, provide additional opportunities for students to learn about business, accounting terminology, etc., so that when they sit down for that first interview, they have a background and experiences that could help them get that first job."
CIBE programming provides internships, immersive experiences, and entrepreneurship and management opportunities. And it's working. In recent years since the founding of the CIBE and the College's investment in professional development, more than 90% of Wabash graduates have landed in their first destination at three months, compared to a national average of 47% at six months.
"What I discovered in talking with CIBE students was that they had a story – and experiences to back it up," he says. "I not only wanted to get involved with the advisory committee, I wanted to invest in these outstanding young men and their potential for success."
Leigh knew from the day she met Cory – literally – the impact a Wabash education had on her future husband. "I met Cory on his first day on his first job at the bank," she said. "Cory had the raw materials – he was a good speaker, a good writer, and a critical thinker. He learned very quickly; he was hungry and ambitious and creative."
That first impression Cory made so long ago is a big reason Leigh was excited to pursue this gift: she believes the world needs more Wabash graduates like her husband. "I know a lot of bigger banks look for business grads and MBAs," she says. "But they're missing out on the Cory Olsons of the world."
Cory and Leigh have faith that in the long run, Wabash graduates will succeed at whatever passions they choose to pursue. In the meantime, they want each year's graduates, regardless of their area of study (Cory was a history major), to have a few additional tools in their toolbox when they start their lives after Wabash.
Cory thinks he knows the recipe for the secret sauce behind the success of the College's top-ranked alumni network: "Wabash gives so many men like me an opportunity that they wouldn't otherwise have. I think that's why so many Wabash graduates want to plug back in with their time and their resources."
That's why he and Leigh are giving back now. And they are not alone. Former President Gregory and Lora Hess made a commitment to being more inclusive through their outreach to spouses and partners during their seven-year tenure. Inviting more people and more ideas into Trustee and NAWM Board weekends has made a lasting difference.
"I love seeing wives that are engaged," Leigh said. "These women of Wabash are not just supporting their husbands; they are getting involved in other, active ways. The Wabash community is a large one, with a big perspective, and by pulling back the lens on that, we've made our circle bigger. That's been so important. Current students, wives, sisters, etc… We all love Wabash.
Cory and Leigh say they are "just blown away" by the impact their gift is already having on students and their opportunities post-Wabash. The letters, calls, and emails of success stories keep coming in.
When asked if he can compare the preparation that today's Wabash graduates receive to his own preparation in 1985, Cory just laughs.
"Wabash's game is on a different level now."