Mason "Champ" McCorkle is the first recipient of a new scholarship at Wabash College. The Greenwood Christian Academy senior received the Wabash Leaders Scholarship, which was endowed by Stephen L. and Connie Ferguson as part of the College's Giant Steps Campaign.
The Wabash Leaders Scholarship and Program provides leadership-related programming for students with a strong probability of becoming a leader with a substantial impact on their communities.
McCorkle was selected from a multi-phase interview and selection process that involved application readers from the Enrollment Office and counseling staffs from select Indiana high schools. He was chosen based on his high ethical standards, integrity, and strong written and interpersonal communication skills.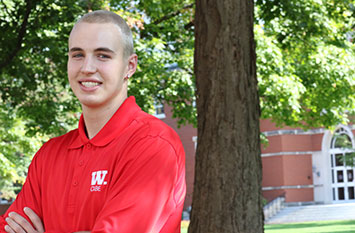 "I am extremely honored to accept the prestigious Wabash Leaders Scholarship, and I am even more excited to be spending my next four years at Wabash College," McCorkle said.
The Wabash Leaders Scholarship covers the full cost of tuition, room, and board at the College, and is a renewable four-year award. The scholarship is designed to identify young men who have demonstrated courageous, creative, and collaborative leadership.
McCorkle is the valedictorian of his Greenwood Christian class and boasts a 4.0 GPA. He founded his school's Culture Committee, led a fundraising effort to support expectant mothers seeking financial support, and was selected as a member of the Johnson County Leadership Academy. He received first team academic all-state honors from the Indiana Basketball Coaches Association and also received IBCA all-state honors after leading his team to a 24-1 record and sectional championship. McCorkle led the Cougars in scoring, rebounding, and assists per game.
"Wabash has produced leaders for decades, but with this scholarship, we were charged with identifying a candidate with a history of leadership and a high probability of becoming a leader in our community," said Dean for Enrollment Management Chip Timmons on behalf of the selection committee. "Dozens of students in our applicant pool possess those traits, but during our review, Champ emerged as an exemplary candidate with extraordinary potential for future leadership at Wabash and beyond."
The scholarship program was established by an initial $2 million gift from the Fergusons. Steve Ferguson is a 1963 Wabash graduate, who majored in economics and political science while at Wabash. He earned his law degree from Indiana University and spent much of his career working in partnership with pioneering medical device businessman Bill Cook.
Mr. Ferguson served as President of Indiana University Board of Trustees for four years, served as an IU Trustee for 12 years, and was Chair of the Indiana Commission on Higher Education. He has received the state's highest honor, the Sagamore of the Wabash, from four Indiana governors and received honorary doctorates from his alma maters, Wabash and Indiana University. He is the Chairman of the Cook Group of Bloomington, Indiana.
Alumni and friends who are interested in contributing to the scholarship with their own philanthropy can contact Michelle Janssen, Dean for College Advancement at 877-743-4545.