When his family brought Larry Landis '67 to Wabash to start his freshman year, his father Donald '39 had only been back to campus once since his own graduation more than 20 years earlier. Yet his family was stopped immediately by a tall, stately stranger on the sidewalk who greeted Donald and his wife Caroline (Sally) by name, and told their son, "Larry, I hope you have a great four years here."
All these years later, the first impression of that man has stuck with Larry: "I thought, he looks like a president."
And he was. The tall stranger on the mall was President Byron K. Trippet, setting an example for the College on how to welcome a freshman—and a family—home.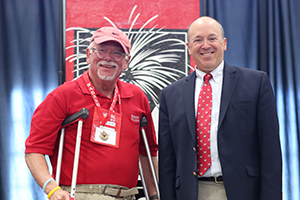 It all comes back to that moment for Larry. It's the inciting incident for a gift that, nearly 60 years later, honors the role Wabash presidents have had in shaping conversations on campus.
Landis recently helped start and support the President's Distinguished Speaker Series (PDSS), which brings inspiring and influential individuals to campus. "I wasn't able to fully endow the Series, but figured a startup gift might inspire others to also contribute," he said. And it did.
The Series began in 2017, and previous speakers include New York Times columnist David Brooks, U.S. Senator Mike Braun, IDEA Public Schools founder Tom Torkelson, author David Sedaris, and New York Times Crossword Editor and NPR Weekend Edition's Puzzle Master Will Shortz.
The gift also allows the events to be free and open to the public in hopes of spurring conversations among the broader community.
Thanks to his significant gift, Wabash men of future generations will be exposed to giant ideas outside of the classroom. "It's all about exposing them to a variety of thinking," Landis says. "I hope the Series helps students appreciate what is unique about the College and about our society."
Landis grew up in Goshen, IN, before coming to Wabash, where he majored in political science and economics. He was a member of Phi Kappa Psi. Landis went on to serve as founder and president for Marketrends Inc., a marketing, communications, and issues management firm, as well as co-founder and managing partner of American Grassroots LLC, a communications firm.
In 2002, Landis was appointed to the Indiana Utility Regulatory Commission by Governor Frank O'Bannon, also serving under Governors Joe Kernan, Mitch Daniels, and Mike Pence until his retirement in 2014. Landis previously worked as an assistant to Indianapolis Mayor Richard Lugar during his first term; as Research Director for 1968 GOP U.S. Senate candidate William D. Ruckelshaus (later named first head of the US Environmental Protection Agency); and as press secretary for Governor Otis Bowen's first gubernatorial campaign.
Landis has done his homework on Wabash presidents; he says they've informed his decision on how to leave Wabash better than he found it.
"If you look through the history of Wabash's Presidents," Landis says, "there is this extraordinary lineage. The College has been challenged repeatedly and dramatically in ways that would have ended a lesser college, but I think Wabash has persevered to a significant extent because of presidential leadership and determination, backed up by exceptional trustees. The president is the person who articulates the vision of the College."
Traditionally, one such vision for Wabash has been to expose students to a wide range of voices they wouldn't otherwise encounter. Landis hopes the Series allows Wabash presidents to bring in individuals of a caliber that a college of Wabash's size would otherwise be unable to attract.
"I want Wabash to continue being the same shining visionary that it has been for all these years," says Landis.