Two Wabash brothers whose careers reached great heights in the field of law have now taken a Giant Step to ensure that future Wabash lawyers can find the same success.
William J. '52 and Robert '55 Reinke recently established the Reinke Brothers Endowed Law Fund, designed to support Wabash men who seek careers in law for years to come. The Fund's general purpose is to prepare students for admission into law school, with a primary focus of financing their participation in preparatory bootcamps for the Law School Admission Test (LSAT).
LSAT scores now heavily influence law school acceptance, though the test was barely a consideration for the Reinke brothers. "It was an option," remembers William. "Today it's essential. And taking a preparatory course is not cheap. We felt this fund would be a good way for us to help a Wabash graduate move forward in the field."
Their desire to help starts with a scholarship both men received more than 60 years ago. They were recruited to the University of Chicago Law School, which at the time was awarding a full-ride scholarship to one Wabash College graduate each year.
Now, William and Robert say, it's time for them "to pay back the start that we got at Wabash."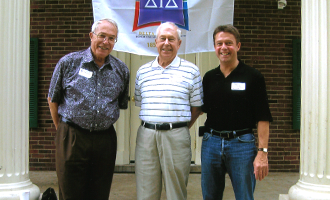 After law school, William served in the 5th Army headquarters in Chicago, Illinois, before beginning his law career. As a founding partner at Barnes & Thornburg in South Bend, Indiana, William helped build the firm into one of the hundred largest law firms in the country. He has also been a long-time Class Agent for the Wabash Class of 1952.
After the University of Chicago, Robert helped found the Dennis & Reinke firm in Richmond, Indiana, with future U.S. Congressman David Dennis. After 24 years of practicing law, Robert was elected Judge of the Superior Court of Wayne County, maintaining this office 14 years. After retiring in 1996, he spent the next two decades serving as a Senior Judge.
In 2018, the Wabash Pre-Law Society conferred the Richard O. Ristine Law Award upon William and Robert jointly. The award is selected by the students to recognize contributions to Wabash and the practice of law.
A few years ago, the two began a long series of regular conversations, discussing how they might give back. "We both profited quite a bit from our Wabash experiences," William says. "That has something to do with our wanting to help other people on the way."
Robert agrees about the chance to pay it forward: "It's a wonderful thing."
The Reinke Brothers Endowed Law Fund made perfect sense to William and Robert; it was a way to ensure that, whatever the future landscape of law school admission looks like, Wabash students will be prepared.
Their gift comes as part of the Giant Steps Campaign, which aims to provide Giant Value to future Wabash students by lowering the financial hurdles to their success.