Esteemed Indianapolis cardiologist Dr. Martin R. See '74 read his own CT scan in June of 2017 and diagnosed himself with liver cancer caused by a melanoma skin lesion he had been treated for the year before. He died three months later to the day, at the age of 65—one day after he had been scheduled to retire.
In his memory, his widow Patsy See established a Wabash scholarship in Martin's name with the help of classmates, friends, coworkers, and fraternity brothers. The scholarship will be further endowed with a bequest in her will, but See also wanted to fund the scholarship immediately with a five-year pledge. Her gifts come as part of the Giant Steps campaign, the largest fund-raising campaign in Wabash's history.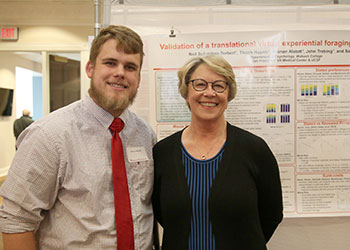 Keanan Alstatt '19 was the first recipient of the Dr. Martin R. See '74 Scholarship, which gives preference to students in their junior and senior years who have declared a distinct interest in attending medical school.
"My husband was grateful for the scholarship support he received at Wabash and proud of his Wabash roots," Patsy says. "He made lifelong friends with classmates and with faculty. He went back for reunions, and he was so proud when two of our nephews chose to attend Wabash."
At some point in the future, Patsy plans to launch a matching gift program to add to the endowment of her husband's scholarship.
Martin See knew he wanted to be a doctor and met all the pre-med requirements at Wabash. He majored in biology, graduated cum laude, and made lifelong friendships with several professors, including Dr. William Doemel, who taught biology at Wabash for 42 years and retired in 2011.
"Martin and I arrived at Wabash at the same time, the fall of 1970," Dr. Doemel recalls. "I was only about seven years older than Martin, and I quickly became friends with him and several other of his Kappa Sig fraternity brothers. In 2002, after experiencing a heart attack, I contacted Martin and asked if he would be my cardiologist."
Martin went to medical school at Indiana University, which Patsy also attended to earn a master's degree in speech and hearing science. She worked with hospital patients who had suffered strokes and head injuries while he completed his residency and cardiology fellowship at St. Vincent Hospital in Indianapolis. He eventually joined Northside Cardiology at St. Vincent Hospital and remained with that group as he practiced invasive and transplant cardiology.
"My dad and my husband were the two hardest-working people I ever knew," says Patsy. "My husband got up at 4 a.m. every day of his working life and regularly worked 80 hours a week. He was a physician, while my dad was a pharmacist and teacher. Their entire lives were spent helping people—and that needs to be honored. A scholarship honors their effort and also the content of that effort, which was helping others."
Martin was revered by his colleagues and his patients. Dr. Doemel describes his first follow-up visit to Martin's office after suffering a heart attack.
I was really scared," Dr. Doemel says. "Martin entered the exam room and sat down on the stool and smiled at me. He clearly and concisely explained my condition and assured me that I could fully recover. Medicine would help, but only I could change and thus heal. When I left his office, he had empowered me to act so that I would recover.
"We met quarterly, then semi-annually, and then annually," Dr. Doemel says. "Our meetings were never rushed, and there was never a computer between us. I can picture Martin sitting across from me with that slight smile as we talked about Wabash, about life, and—incidentally—about hearts."
Martin was a gifted photographer. He was also an accomplished cook of Italian delicacies, a talented guitarist, a runner, a golfer, and active in local community theater as a lighting and sound technician. Martin and Patsy were married for 37 years and had three children and four grandchildren. He also had two nephews attend Wabash—Lucian William Lupinski '11 and Theodore "Teddy" Lupinski '20.
"Nobody loved kids more than he did," Patsy says. "He initially wanted to be a pediatrician but found it too hard to deal with sick kids. And of course, he had a knack for cardiology. But being a grandfather—that to him was reaching the pinnacle, the most important thing in his life."
And he made Patsy laugh.
"He was the funniest person I ever met, a pithy observer with a dry sense of humor who never cracked a full smile while joking," Patsy says. "Even in his last days, he never lost the ability to make me laugh."
Throughout his life Martin remained committed to Wabash, with regular gifts and regular attendance at reunions and sporting events.
"He went from a high school of 5,000 in Elkhart, Indiana, to a really small college at Wabash—and he thrived," Patsy says. "He loved being at a small school, he loved being in a fraternity, he loved the collegial atmosphere, he loved the friendships he made in the biology department, he appreciated the love of learning at Wabash.
That made the decision to establish and endow the scholarship an easy one for Patsy. "At Wabash, they take teaching very seriously. They see it as not just their job but their vocation—to teach students and to make sure they learn, not just to present information and be done. And that is truly a gift."