President Gregory D. Hess today announced a new interdisciplinary major, Philosophy, Politics, and Economics (PPE), to be introduced in the 2019-20 academic year. The program is being made possible through a fully-funded endowment by Trustee Tom Walsh '73 and his wife Anne B. Walsh, as part of their overall commitment to Giant Steps: A Campaign for Wabash College.
The $225 million Giant Steps Campaign is the largest comprehensive fund-raising campaign in the school's history.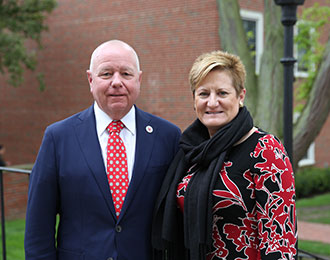 Their gift establishes a fully-endowed professorship, the Tom and Anne Walsh Professor of Philosophy, Politics and Economics. Dr. Nicholas Snow, who rejoins the Wabash faculty from Indiana University, has been appointed to the position, effective July 1, 2019.
"The PPE degree was first bestowed at Oxford University in the 1920s, and it continues to grow in global appeal," said President Hess. "The course of study is already highly sought after by our incoming freshmen and we are grateful for Tom and Anne's exceptional generosity."
"As important as philosophy, politics, and economics are individually," Anne Walsh said, "the integrated study of these disciplines provides a new generation of leaders with a much richer understanding of the interconnectedness of today's world, and the institutions, systems of government, and theories and policies that shape it."
"As veterans of the global legal and financial industries, Anne and I understand that intellectual capital is the new global currency," said Tom Walsh. "Moreover, we believe the unified study of the science, theory, and practice of philosophy, politics, and economics is vital to obtaining the knowledge base necessary to bring about global economic and societal harmony. We are proud to help Wabash further enrich the academic opportunities to meet this challenge."
Mr. Walsh has served on the Board of Trustees since 2015. A retired attorney, he was partner of Suelthaus & Walsh PC for 23 years, serving as president for over 10 of years before spending a decade as partner at multinational law firm SNR Dentons. In addition, he served on the board of Meritas, a global affiliation of mid-sized law firms. Mr. Walsh is also a founder of the St. Louis Arch Angels, which has financed over 100 start-up companies, and served as Missouri Venture Forum President and as a director of several companies, both for profit and non-profit.
Mrs. Walsh holds a B.S.B.A. and M.B.A. from Auburn University, and a J.D. from the University of Miami School of Law. She is the Chief Investment Officer of Fixed Income for Guggenheim Investments, where she oversees more than $185 billion in fixed income investments, including corporate and structured bonds, loans, and real estate.
Dr. Snow, who spent the 2016-17 academic year as a visiting professor at Wabash, was most recently a lecturer in the Department of Economics at Indiana University. He previously taught at Ohio State University and Kenyon College.
Dean of the College Scott Feller said that Dr. Snow was the perfect candidate to launch the new program and that he brings the dual commitment to teaching and scholarship that is necessary for success at Wabash. "The College has been aggressive in developing its PPE major in advance of his arrival, and I am confident that the success he will achieve here will continue to attract new students to the program."
A native of Boca Raton, Florida, Dr. Snow earned his B.S. in Economics from the J. A. Butt School of Business at Loyola University New Orleans. He earned his Ph.D. in Economics from George Mason University. Dr. Snow's research interests are varied, and include the Political Economy of Prohibition, Austrian Economics, Law and Economics, Public Choice Theory, and the History of Economic Thought.
"I am thrilled to return to Wabash and help build the new PPE program," Dr. Snow said. "Coming from a PPE background, I believe such a program fits extremely well with Wabash, given its academics, history, and community."