When Walt '68 and Kathy Snodell are asked where they're each from, they laugh first. Then they explain.
Walt is from the south side of Chicago. He's a White Sox fan.
Kathy is from the north side of Chicago…and a Cubs fan.
Though their baseball loyalties have caused a few disagreements over the years, they both love their city, believe in all-male education, and want more students in and around Chicago to hear about Wabash College.
"Wabash really makes a difference," Kathy said. "I've seen it through Walt's life, through our grandson (Tyler Snodell '15), and I've seen what other people have done because of Wabash."
In order to help the College with recruitment and enrollment efforts in their hometown, the Snodells recently gave $4 million to start the Greater Chicagoland Initiative.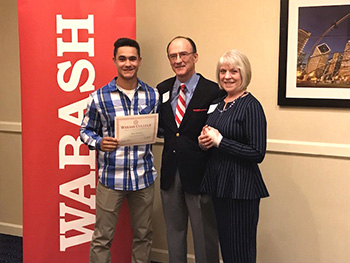 The Snodells' initiative focuses on four components: scholarships, a Chicago-based Admissions counselor, marketing, and support for recruitment events outreach for students in Chicago and its suburbs, southern Wisconsin, and eastern Iowa.
"Walt and Kathy really wanted their gift to have an impact that reflected their values and their interests," Dean of Advancement Michelle Janssen said. "They're very interested in education and scholarships and they're life-long Chicagoans, so this gift to Wabash's Giant Steps Campaign was perfect."
Walt, chairman and CEO of Peerless Industries, Inc. and chair of Wabash's Budget and Finance Committee, said his and Kathy's thought process behind the Greater Chicagoland Initiative was to help develop and maintain an international footprint for the College.
"We send these men out into the world, and they do really well, but we need to draw them in from around the world as well," Walt said. "Our gift isn't only Chicago-focused; it is outside-of-Indiana focused. We started with Chicago because it's close to the College and we're from Chicago, so it just made sense."
One reason recruiting Indiana students is easier than out-of-state students is because of state grants that are available to Hoosier students.
Walt and Kathy are helping make up that difference in the Chicagoland area with the "Snodell Scholars." Seven students from this year's freshman class make up the first group.
Samue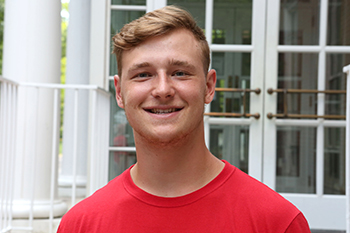 l Pipiras '22 is from New Lenox, Illinois, and is a member of the football team and Beta Theta Phi. After his first semester at Wabash, he said he has already learned valuable lessons in time management and dedication.
"The Snodell Scholarship has helped a ton and allows me to get ahead of the financial obstacles I face in my future," Pipiras said. "The only way to really show my appreciation is to make sure I work hard so that one day I have the same opportunity to give back to young men just like myself in the future."
When the Snodells heard what Pipiras said about their generosity, they said it was the essence of why they gave.
"At every step in my life," Walt said, "there were people helping me along. Many times I didn't even know it. All of us are helped along our ways, but we very seldom get to effectively pay back the people who have helped us. Instead, you pay it forward."
Part of the Snodells gift also provides funding for Associate Director of Regional Admissions Kyle Vowell, the College's new Chicago-based Admissions counselor.
Vowell said many of the high schools he's visited hadn't heard about Wabash College before but are always impressed after learning more. He has already been able to visit more high schools, meet with more prospective students, and connect with more high school counselors than the College had been able to in past recruiting efforts.
"Chicago may be the most competitive market in the country," Associate Dean for Enrollment Chip Timmons '96 said. "The Snodells' gift has given us a strong, constant presence that we lacked over the last decade, and we are excited to see how the investments we're making now pay dividends in the future."
The Giant Steps Campaign is a $225 million comprehensive campaign focused largely on growing Wabash's endowment for scholarships, faculty, academic programs, and cross-cultural immersion learning experiences.