Wabash College has announced the largest comprehensive fund-raising campaign in its 186-year history. Giant Steps: A Campaign for Wabash College seeks to raise $225 million.
At an event at the Indiana State Museum on Nov. 9, Wabash President Gregory Hess announced that Wabash has already raised $150 million in the leadership phase of the campaign, which is more than the College raised in any of its previous campaigns.
"Wabash is a truly remarkable institution," said President Hess. "Nationally, Wabash has the second-ranked alumni network and ours are among the happiest and most successful alumni in the country. We are proud of that, but we must do more for the generations of dynamic, innovative leaders who will follow in these giant footsteps."
The campaign will focus on four specific areas: further endowing Wabash's generous scholarship programs; funding faculty professorships, chairs, and academic programs; providing immersive learning experiences for all Wabash students; and funding capital projects and the Annual Fund.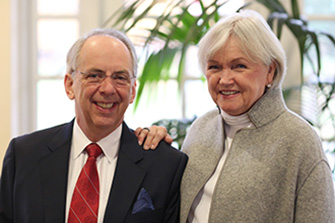 Hess also announced the single largest gift ever given to Wabash. Paul Woolls '75 and his wife, Betty O'Shaughnessy Woolls, have made a $40 million unrestricted gift to Wabash.
"It is impossible for me to overstate the importance of Paul and Betty's gift," Hess said. "It is a truly transformational gift that matches our vision to be a men's college that matters — to men, women, and the world. This gift will help Wabash be a catalyst for world-changing ideas and we will cultivate an environment that encourages creativity and collaboration."
"Betty and I are delighted to make this gift to the Giant Steps Campaign in hopes that others will be inspired and compelled to take their own Giant Step for Wabash College," said Paul Woolls, who is a retired attorney and now owns Progeny Winery in Napa, California. "This campaign is so important and our need is so great. Now is the time to act with boldness and conviction."
Betty O'Shaughnessy Woolls, a former real estate developer and entrepreneur, founded O'Shaughnessy Estate Winery in Napa in 1996. "It has been an honor to serve with such a dedicated group of volunteer Trustee leaders," she said. "We have bonded as a group as we have worked and planned for the launch of Giant Steps, and together we are committed to securing the future of Wabash College."
The Woollses are serving as co-chairs of the Giant Steps Campaign along with Steve '68 and Joanie Bowen.
"The Giant Steps we will take for Wabash will provide funding for scholarships, faculty and academic programs, immersive experiences, and our physical campus," said Steve Bowen, former Chair of the Wabash Board of Trustees. "But the fundamental goal of this campaign — the thing we simply must do — is to grow our $320 million endowment substantially between now and our 200th anniversary in 2032. Our task — and our responsibility — is clear. We must do better for Wabash men. We must do better for our College. This is our goal and we will take Giant Steps necessary to achieve it."
More than 30 gifts of more than $1 million were announced at the campaign kickoff. Included are gifts that provide endowed scholarships, faculty chairs, funding for Wabash's innovative Liberal Arts Plus initiatives, gifts to enhance Wabash's recreation and athletics facilities, and resources that will permanently endow cross-cultural domestic and international immersion learning experiences.
"Gratitude multiplies, and our leadership-phase donors are grateful to Wabash College," President Hess said. "These men and women know that their generosity will proliferate; their gifts will inspire others to support Wabash College. The philanthropy they joyfully inspire in others is the real gift."