Steve Bowen '68 can't help but laugh as he realizes how long he's been connected to Wabash College.
In 54 years, he's been a student, fan, father of a Wabash man, Chair of the Board of Trustees, and now a professor in the religion department.
He and his wife, Joanie, recently made a $2 million unrestricted gift to the College's Giant Steps Campaign to continue their commitment to his alma mater for years to come.
Why now?
"I've lived a lot more years than I'm going to live," Bowen said. "I just thought it was time."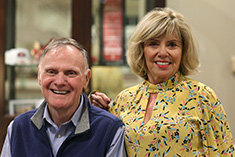 The unrestricted gift allows the College's administration, in collaboration with the Board of Trustees, to meet the College's most pressing needs and to invest in innovative new programs.
"I believe in the current administration of the College, and I believe in the Board of Trustees," he said. "I trust the College to spend the money wisely, to put students first, and to give them what they need to succeed."
Bowen was elected to the Wabash Board of Trustees in 1996 and became Chair of the Board in 2007. His son David graduated in 1999, and he met his wife, Joanie, when her son, Paul Heinemann '07, was a Wabash student.
"Steve and Joanie have been exceptional ambassadors for and stewards of Wabash College," said Wabash President Gregory D. Hess. "Though each connected to Wabash through different paths, they have always been strong and consistent in the importance of the College's mission to transform lives."
While Bowen is aware that times have changed at Wabash, he knows its commitment to teaching has not.
"Traditions in my day, like 'W' haircuts and pole fights, are traditions no longer, and some 'current' traditions, like not walking under the arch, began long after I graduated.
"But there are two things that endure: extraordinary teaching and academic rigor. To me, those are the traditions that matter and must continue."
As Chair of the Board, Bowen helped create the William C. Placher Fund, an endowment that supplements faculty salaries.
"If we need to augment beginning salaries to attract young faculty or otherwise to maintain our competitiveness in the market place, the fund gives the College flexibility in meeting these needs," he said.
When he retired after 42 years of practicing law, Bowen was given the opportunity to teach a religion course during the fall semesters. He started teaching theological ethics and is now helping Professor of Religion Derek Nelson teach a senior colloquium and a freshman tutorial.
"I was a religion student, and theology and ethics have always been my avocation," Bowen said. "My being here allows the College to offer a course it might not otherwise be able to offer. It helps the students, and it extends our academic footprint."
Bowen recognizes the culture of philanthropy is essential to the College's long-term well-being. He also encourages alumni to stay in touch with their classmates and with faculty members.
"I have always benefitted from staying in touch with faculty members," Bowen said. "They have a lot of wisdom about a lot of things, and they're always interested in you and in what you're doing."
When Bowen isn't on campus, he is usually with his wife and dogs at their home in Chicago. He and Joanie do yoga and get a lot of exercise, read, and enjoy seeing good movies. Of course, Bowen is often doing something Wabash-related, like preparing classes or listening to or live-streaming Wabash athletic events.
"That's just me. This is a special place. It's where my life took off."